We're going for serious aphrodisiac properties here if you believe in such things: the figs are the most obvious, (apparently Adam and Eve used fig leaves to cover their nakedness in the Garden of Eden) and the honey contains b-vitamins which are essential in testosterone production and boron which helps metabolize estrogen. But the raw beauty of this gorgeous salad-topped pizza, and the sensual scent of the truffle oil seal the deal.
If the dough element looks like too much faf, this pizza is also delicious on a flatbread – though because they are already cooked, you only need a 400 oven and about 5 mins to warm the topping.
Garden of Eden Pizza – Fresh pizza with truffle oil, goat cheese, arugula, Parma ham, figs and honey (per pizza)
1 ball of pizza dough (I buy mine from Trader Joes, though a couple of my local pizza places also sell it by the ball)
1 ½ tsp truffle oil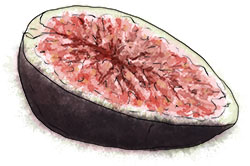 2 tbsp soft goat cheese
4 black mission figs
2 tsp honey
1 cup arugula (rocket)
2 slices of Parma ham
½ tbsp olive oil
lemon
Salt and pepper
Cornmeal / flour
Oil a bowl, put the dough in it and let it rise in a warm place for 20 mins (if you're buying it from a pizza restaurant it should be good to go, but the Trader Joes dough is refrigerated and this really helps the texture)
On a floured surface, roll out the pizza dough into a rough circle, then pull and stretch it into as thin a disk as you can manage
Transfer it to a non stick baking sheet (to ensure that it won't stick dust the sheet with cornmeal)
Let the dough rest of 5 mins (it springs back) then pull out again to get a really thin crust
Now preheat the oven to as high as it will go – about 500 in my case
Dot the truffle oil onto the pizza, then brush with olive oil and season well with salt and pepper
Dot little pieces of the goat cheese over the pizza
Cut the figs in half and arrange on the pizza. Spoon a little drizzle of honey over each piece and season with black pepper
Bake – it's hard to give a time here because so much depends on the temperature of the oven. Mine takes about 5 mins.
Top with the Palma ham, and the arugula dressed with a squeeze of lemon, a splash of olive oil and some salt
If You Can Make That You Can Make This:
Use the same ingredients to top a sheet of puff pastry to make Garden of Eden tart
Swap the figs for slices of pear, and the goat cheese for blue cheese – this was my friend Molly's Valentines dinner this year
Top the pizza with chopped fresh tomato, mozzarella and basil
Or with marinara sauce, mozzarella and olives
Or with marinara sauce, sliced mushrooms, garlic oil and parmesan
Or with ricotta cheese, sliced mushrooms, truffle oil and parmesan
Or with ricotta cheese, roasted butternut squash, truffle oil and parmesan
Or with pesto, grilled vegetables and mozzarella
This pizza recipe originally appeared with the run down of how Valentines day landed in the lives of my friends this year.