This dressing is based on a Delia recipe from her Winter Collection which was the book of the moment when I started to cook. I've tinkered with it – she uses crème-fraiche in hers – but the principle is the same.
Apple Salad with warm camembert dressing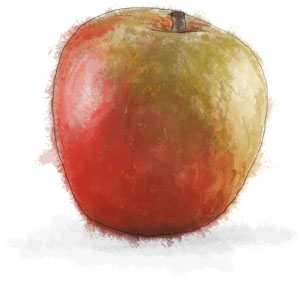 2 cox's apples – or any apple that takes your fancy
2 heads of chicory
1 bag of sturdy greens – I use a rocket spinach mix
1 handful of walnuts (if you have the patience to roast them with some salt and brown sugar for a few minutes it will pay dividends in the taste)
1 small camembert
1 tbsp of cider vinegar
Salt and pepper
Shred the chicory into a bowl and add the mixed greens and the walnuts
Core the apples and slice thinly. Add to the greens
Toss to mix then portion out onto two plates
Peel the rind off the cheese and heat in a pan until melted. Whisk in the cider vinegar and season well with salt and pepper – You're not trying to cook the cheese, only melt it – if you cook it it will go stringy
Pour the hot cheese dressing over the salad
Serve with warm crusty bread and a glass of resin-y white wine
This originally appeared in a post about the start of fall and apple's in my Grandmother's garden.