Autumn has arrived. I can't speak for Fall because I am currently in London on a visa run and have no idea what's going on back in the Big Apple. Nevertheless, apples, big, and, well frankly, mostly small, have been playing a significant role in my week.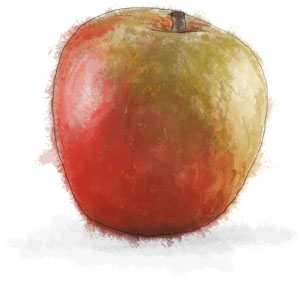 I've been visiting my grandparents up in Wigan, where their apple tree is bulging with more fruit than they know what to do with. This presents something of a problem. My grandma is arthritic and can't bend to pick up the apples, my grandpa is blind and can't see the apples. So he kneels on the grass and she tells him "left a bit, right a bit" until he has collected the harvest. Most people would let the apples rot, but, being Methodist, the thought of having fallen un-collected apples in the garden sends them both into fits of guilt.
So I collected bags, buckets of apples. Many bags and buckets of apples. I shook the tree. I climbed onto a chair and picked from the branches. I used a broom handle to knock high up ones down to the ground.
The plan was to peel them and cut them and turn them into apple sauce.
If the apples had been bigger than golf balls this would have been a good plan.
And then it was Harvest Festival at church, where children parade up and down the aisles with boxes of harvest goodies – tins of mandarin oranges, jars of coffee and the like – as the congregation confirms its intention to plough the fields and scatter the good seed on the land. Even in places like Wigan where land to scatter on would be hard to find.
One child, a perfectly spherical boy in glasses, had a foil-covered shoe box full of apples from some other tree in  some other garden, all about the size of ping-pong balls. He started eating them as he started to parade in verse 1. By the end of verse 2 he arrived at the altar to present the minister with a box full of cores.
As we left the church the soft refreshing rain began to patter down.
It's now officially Autumn.

Apple Salad with warm camembert dressing (serves 2)
This dressing is based on a Delia recipe from her Winter Collection which was the book of the moment when I started to cook. I've tinkered with it – she uses crème-fraiche in hers – but the principle is the same.
Ingredients
2 cox's apples – or any apple that takes your fancy
2 heads of chicory
1 bag of sturdy greens – I use a rocket spinach mix
1 handful of walnuts (if you have the patience to roast them with some salt and brown sugar for a few minutes it will pay dividends in the taste)
1 small camembert
1 tbsp of cider vinegar
Salt and pepper
Shred the chicory into a bowl and add the mixed greens and the walnuts
Core the apples and slice thinly. Add to the greens
Toss to mix then portion out onto two plates
Peel the rind off the cheese and heat in a pan until melted. Whisk in the cider vinegar and season well with salt and pepper – You're not trying to cook the cheese, only melt it – if you cook it it will go stringy
Pour the hot cheese dressing over the salad
Serve with warm crusty bread and a glass of resin-y white wine