This is based on the salad at Arte on West 73rd street – one of my favorite restaurants in the city. It's all white table cloths and traditional Italian food, but with a lovely neighborhood charm about it, and a laid back vibe. I had my 30th birthday there. I hate to think how many times over the last year I've eaten this salad.
Spinach Salad with sliced mushrooms, goat cheese, lemon and bacon (serves 2)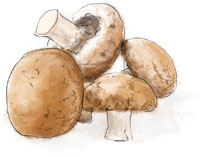 1 bag of baby spinach
4Â  pieces of bacon cut into lardons
1 cup of crimini or chestnut mushrooms (or whatever variety you like)
4 tbsp goat cheese
1 lemon
Olive oil
Salt and pepper
Fry the bacon until crisp
Slice the mushrooms thinly
Zest half the lemon, then juice half the lemon and season well, especially with salt
Toss the spinach an mushrooms with enough dressing to make the leaves glisten
Top with the goat cheese broken up into little clumps, and the bacon
Grind some extra pepper over the top
This originally appeared in a post about the excesses of Christmas and my mother's post Christmas birthday party.