You'd think that a little detox between Christmas, Christmas leftovers and New Year would be a good idea. This would be the day to eat vitamins, to go for a brisk walk perhaps, to feel healthier again.
A great day for a spinach salad, in fact.
But I will be tucking into another Christmas dinner.
My Mum is twins with her cousin. They were both born today just slightly over 21 years ago. This leads to some uncanny behavior – they have the same handwriting, for instance, they regularly turn up to the same event in the same outfit.
Last year, they were visiting us in New York when the volcano prevented their return for an extra week. For Jon it must have been like living with 2 mother-in-laws.
So today is the day when both the twins families meet up like the confluence of fast flowing rivers, for a chaotic lunch complete with a choice of beef pork or turkey (or all three) and Yorkshire puddings in addition to the regular Christmas trimmings. Chaotic, wonderfully, because my aunt has 10 grandchildren.

The children put on a nativity show that's filled with Oscar worthy performances and massive off stage dramas. Last year one child refused to be a wise man. He would be the nativity tiger he said. So that's what he was. Mary dressed up like Cinderella. The angel Gabriel had a musical magic wand.
Will Cousin Helen allow her tiny new baby Emily to play the Baby Jesus? Will Godson Arthur insist on wearing his lion costume and being The Lion King again? Who can tell.
We go on a walk round the village answering fiendishly difficult quiz questions in an attempt to walk off our second turkey dinner in three days. But the village isn't that big.
So in a glorious do as I say, not as I do moment, may I recommend spinach salad to you as the Monday treat.
It is a treat too – this is based on the salad at Arte on West 73rd street – one of my favorite restaurants in the city. It's all white table cloths and traditional Italian food, but with a lovely neighborhood charm about it, and a laid back vibe. I had my 30th birthday there. I hate to think how many times over the last year I've eaten this salad.
Spinach Salad with sliced mushrooms, goat cheese, lemon and bacon (serves 2)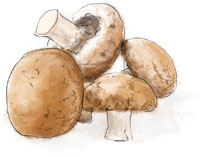 1 bag of baby spinach
4Â  pieces of bacon cut into lardons
1 cup of crimini or chestnut mushrooms (or whatever variety you like)
4 tbsp goats cheese
1 lemon
Olive oil
Salt and pepper
Fry the bacon until crisp
Slice the mushrooms thinly
Zest half the lemon, then juice half the lemon and season well, especially with salt
Toss the spinach an mushrooms with enough dressing to make the leaves glisten
Top with the goat cheese broken up into little clumps, and the bacon
Grind some extra pepper over the top