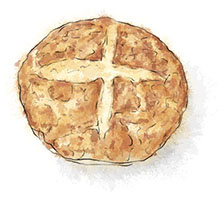 This bread is perfect toasted and smothered with unsalted butter and a good blackberry jam. It's best eaten the day it is made because there's nothing in it that acts as a preservative.
450 g flour
1 tsp sugar (ideally super-fine or caster)
1 tsp bicarbonate of soda
1 tsp salt
350 ml buttermilk (you made need a bit more – up to 450 ml
Pre-heat the oven to 425 (230 C)
Sift the flour, sugar, bicarb and salt into a large bowl, then make a well in the middle
Pour in the buttermilk, then using your hand as a claw, pull the flour into the milk and bring the dough together (If the dough is really dry, add more buttermilk). Don't knead the dough – that makes it tough, just bring it together
On a floured surface bring the dough into a round about 1 ½ inches tall, then slash the top in a cross shape
Transfer to a baking tray, then bake for 15 mins
Now turn the oven down to 400 (200C) and bake for 25mins
Turn the bread upside down and bake for another 5 mins. It should be golden brown and sound hollow when tapped
Cool on a wire rack before eating
Just because I've given up chocolate for Lent doesn't mean I can't dream about chocolate soda bread – add at least ½ cup of chocolate chips to the dough (really delicious spread with cream cheese – don't knock it till you've tried it!)
Or add a handful each of dried cranberries and walnuts, and ½ tsp of cinnamon (I love cinnamon, so I usually add 1 tsp)
Or add a handful of grated cheddar cheese and a tbsp of chopped chives
Or a handful of cheddar cheese and a handful of cooked bacon lardons
Or a cup of fresh seedless grapes
Or a cup of pitted green olives
Or add 2 tbsp of chopped fresh herbs – rosemary and thyme is especially nice
This recipe originally appeared with a story of a terrible cook I knew who could always turn out the perfect soda bread.