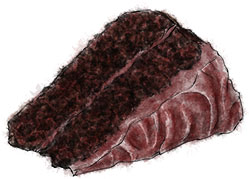 I suspect that a man baking chocolate cake for his girlfriend is the equivalent of a woman dressing up in stockings for her boyfriend. And I'll just leave that thought with you.
This is a variation on a classic 6:6:6 cake – 6 oz each of Butter, Sugar and Flour and 3 eggs. Translated into cups the proportions change slightly – if you have scales, I'd use them rather than cups.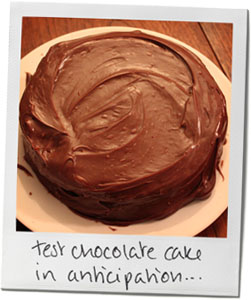 Everything needs to be at room temperature before you start.
It's not the plumpest of cakes – you could consider mixing up another 4:4:4 2 eggs batter and making three layers if height is what is required.
It can be baked in a regular cake tin, or in brownie tins to make a square cake – worth remembering if you need to do any sort of cut out cake – initials, numbers, etc
For the chocolate cake
6 oz all purpose flour or 1 cup
6 oz sugar or 2/3 cup
6 oz butter or 12 tbsp which is 1 and ½ sticks
3 tbsp good dark coco
1 tsp baking powder
1 tsp vanilla (or espresso coffee)
3 eggs
Pre heat the oven to 325
Throw everything into a food processor and process until smooth
Or cream the butter and sugar until fluffy
Add the eggs one at a time until incorporated
Add the rest of the ingredients a bit at a time, mixing until the batter is smooth
Scrape into two 8″ cake tins and bake for 25 – 35 minutes – I swap the tins around at half time to try to get a more even bake. A skewer should come out clean when poked in the centre.
Cool on a rack
For the chocolate sour cream frosting
This recipe is adapted from a classic Nigella Lawson cake in her beautiful book How to be a Domestic Goddess. I first made it for my sister's 21st birthday and have been wheeling it out for adult birthdays ever since. It has an almost fudgy quality – very deep and rich. In her recipe she uses vanilla. I prefer to use espresso, which makes the chocolate somehow taste more chocolate-y.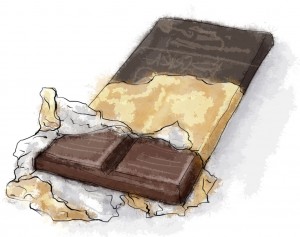 75g or 5 tbsp butter
175g good quality chocolate (1 and a ¼ packs)
300g confectioner's (icing) sugar sifted (it has to be sifted or there will be lumps in the icing – putting it in the processor and blitzing it for a few seconds has the same effect.)
1 tbsp syrup
125 ml sour cream (1/2 a cup)
1 tsp espresso (cold)
Melt the butter and chocolate in a bowl over a pan of boiling water (or in the microwave)
Let cool for a few minutes
Add the icing sugar, the syrup, the espresso and the sour cream and mix well to combine
Use 1/3 of the mixture to sandwich the cakes together and the rest to cover the cake top and sides
To keep the plate neat, poke 4 strips of foil or parchment under the cake so that icing drips can be whipped away at the end
Decorate as the mood takes you
This recipe originally appeared along with a musing on the nature of romance and how it is often thwarted by New York.