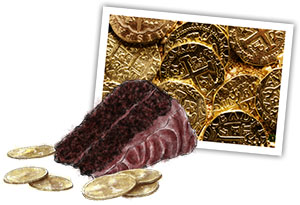 It was Abigale's birthday this week, and boyfriend Simon planned a romantic surprise. He would sneak into her apartment while she was at work, and fill it with flowers.
He could see it in his mind's eye; roses in a vase on the coffee table, roses on the mantle piece, flowers in a jam jar in the bathroom, flowers in the kitchen in an old glass milk bottle by the sink, petals on the bed. It would be the ultimate romantic surprise.
Sadly, New York eliminated the possibility of sneaking-related grand gestures, when Abigale never quite got round to giving Simon a key.
First stop, the doorman. Simon turned up with armfuls of foliage and was told that he could not go up. No matter that he had been practically living there for the last few weeks, and had talked about football with the doorman every time they had crossed paths. He was officially a stranger and could not enter.
He considered the fire escape. But the ladder was too high to reach no matter how high he jumped.
Stumped he sat on the stoop with his flowers and wondered what to do. Which, as luck would have it, is when I called to see how the Crime Passional was going.
He paced up and down in my apartment while I put the kettle on, gingerly navigating the flowers that we had dumped in the sink to keep fresh.
"Romance is trickier than I thought," he said.
Which is when we decided to bake chocolate cakes.
I suspect that a man baking chocolate cake for his girlfriend is the equivalent of a woman dressing up in stockings for her boyfriend. And I'll just leave that thought with you.
Now Simon's chocolate cake, decorated with some exceedingly cool candles with multi colored flames, was a birthday cake through and through. But my chocolate cake was a test drive towards an entirely different goal – a Sneak Like A Ninja Day cake.

Sunday is coming. I will be getting my sneak on. I hope you'll be joining me, though, of course, if you sneak properly, I won't even notice. And I was talking to Jonathan about my menu (sushi for the Ninjas and pizza for the Ninja Turtles, all washed down with Lychee Martinis). What did he think Ninjas would eat for desert?
He sat, deep in thought for a moment then nodded sagely. "Pirates" he concluded.
So my chocolate cake is topped with treasure that the Ninjas stole from their arch rivals when they were off drinking rum and polishing their cutlasses.
I have gold chocolate coins, candy necklaces, jelly sweet rings (thank you Dylan's Candy Store). I have edible gold spray (Williams Sonoma) and some silver and gold wrapped Godiva truffles – because they are so beautiful. Piled on top of a deep rich chocolate icing, it's a cake any Ninja would be happy to partake of.
So if you bake one, turn around and find nothing but crumbs left on the plate, you'll know what happened.
Chocolate Treasure Cake
This is a variation on a classic 6:6:6 cake – 6 oz each of Butter, Sugar and Flour and 3 eggs. Translated into cups the proportions change slightly – if you have scales, I'd use them rather than cups.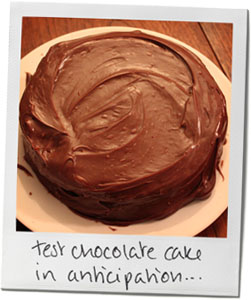 Everything needs to be at room temperature before you start.
It's not the plumpest of cakes – you could consider mixing up another 4:4:4 2 eggs batter and making three layers if height is what is required.
It can be baked in a regular cake tin, or in brownie tins to make a square cake – worth remembering if you need to do any sort of cut out cake – initials, numbers, etc
For the cake
6 oz all purpose flour or 1 cup
6 oz sugar or 2/3 cup
6 oz butter or 12 tbsp which is 1 and ½ sticks
3 tbsp good dark coco
1 tsp baking powder
1 tsp vanilla (or espresso coffee)
3 eggs
Pre heat the oven to 325
Throw everything into a food processor and process until smooth
Or cream the butter and sugar until fluffy
Add the eggs one at a time until incorporated
Add the rest of the ingredients a bit at a time, mixing until the batter is smooth
Scrape into two 8″ cake tins and bake for 25 – 35 minutes – I swap the tins around at half time to try to get a more even bake. A skewer should come out clean when poked in the centre.
Cool on a rack
For the chocolate sour cream frosting
This recipe is adapted from a classic Nigella Lawson cake in her beautiful book How to be a Domestic Goddess. I first made it for my sister's 21st birthday and have been wheeling it out for adult birthdays ever since. It has an almost fudgy quality – very deep and rich. In her recipe she uses vanilla. I prefer to use espresso, which makes the chocolate somehow taste more chocolate-y.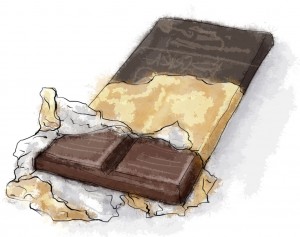 75g or 5 tbsp butter
175g good quality chocolate (1 and a ¼ packs)
300g confectioner's (icing) sugar sifted (it has to be sifted or there will be lumps in the icing – putting it in the processor and blitzing it for a few seconds has the same effect.)
1 tbsp syrup
125 ml sour cream (1/2 a cup)
1 tsp espresso (cold)
Melt the butter and chocolate in a bowl over a pan of boiling water (or in the microwave)
Let cool for a few minutes
Add the icing sugar, the syrup, the espresso and the sour cream and mix well to combine
Use 1/3 of the mixture to sandwich the cakes together and the rest to cover the cake top and sides
To keep the plate neat, poke 4 strips of foil or parchment under the cake so that icing drips can be whipped away at the end
Decorate as the mood takes you