This cake comes from a Nigella Lawson recipe, and I've been making it repeatedly since I discovered it because there's something incredibly satisfying about boiling whole fruit, processing them to bits then turning them into a baked good. It just seems so unlikely.
I also have a friend who doesn't eat dairy, so I make this for her birthday, which, luckily, falls at the beginning of January when there's something of a glut of clementines, tangerines and even – and it was delicious, though a bit more sour – Seville oranges.
I confess that if I can't find seedless clementines, and often I can't, I use tangerines. Nigella suggests de-seeding the fruit before chopping, but poking around in orange goo seems less than joyful to me, so I avoid it where possible.
I also cook my cake for less time than she indicates – maybe I just prefer my cakes a little more dense and moist, or maybe I've had contrary ovens. Who can say.
Clementine Cake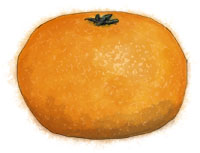 5 tangerines (about 375g)
6 eggs
1 cup + 2 tbsp sugar
2 and 1/3 cups of ground almonds
1 tsp baking powder (if it's been open for longer than three months it's useless and best avoided)
Put the tangerines in a pot with cold water to cover, bring to the boil, and cook for 2 hours. Drain and cool.
Finely chop the skins, pith, and fruit in the processor or by hand.
Preheat the oven to 375°F (190°C)
Butter and line an 8-inch (21 centimeter) springform pan with parchment paper. (I used a silicone one without buttering and lining and it worked fine.)
Beat the eggs. Add the sugar, almonds, and baking powder.
Stir in the chopped tangerines.
Pour into a tin and bake
Nigella suggests baking for 50 minutes, covering the top to prevent burning after 40. I usually find that 30 minutes – sometimes 35, in which case I cover the top – is plenty. Keep testing. A skewer should come out clean.
I left my cake plain, but Nigella suggests dusting with icing sugar, and I used to make a version with a glaze made out of confectioners sugar (icing sugar) and orange juice, but I now think it's a bit sweet.
Nigella recommends eating the cake a day later – mine was gone in an hour.
This recipe originally appeared paired with brandy with a story of Christmas with the in-laws.