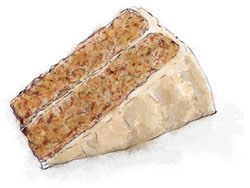 175g flour
1 tsp baking powder
175g sugar
175g butter (must be soft)
3 eggs (at room temp)
3 tsp espresso
For the icing
6 oz butter (must be soft)
12 oz icing sugar
3-4 tsp espresso
Grease 2 8 inch tins and line the bottom with a disk of parchment. Preheat the oven to 325 f (170c)
Sift the flour and baking powder into a bowl
Add the eggs, sugar, butter and espresso. Whisk with an electric whisk until light – you can also use a wooden spoon, it just takes longer
The mixture should drop of the whisk or spoon with one tap on the side of the bowl. If it's too stiff, add a tsp of water
Divide between the tins and bake for 30 – 35 mins until a toothpick inserted into the centre of the cake comes out clean
Remove from the oven, allow to cool in the tins for a few minutes, then turn out onto a rack until fully cooled
Sift the icing sugar (or you'll get unappetizing lumps in the icing), add the coffee and stir into the butter until smooth. If the icing is too dry add some more coffee, if it's too wet, add some more icing sugar
Spread a layer on top of one of the cakes, top with the other and ice the top. (make sure the bottom of the cake becomes the top, as it will have a nice flat surface for icing. The top of the cake with be more domed and uneven).
If you like your coffee cake with walnuts in, add a handful of chopped walnuts after the batter is made, but before it's divided into the tins. Top with walnuts for a traditional look.
This originally appeared alongside a recipe for a White Russian and the story of how I get cappucinos every morning because I bought Jon an espresso machine.