All the ingredients should be at room temperature before you start. You'll get more reliable cakes if you use scales to measure by weight rather than volume in cups.
Ingredients (makes 12 fairy cakes, 8 muffin-sized cakes)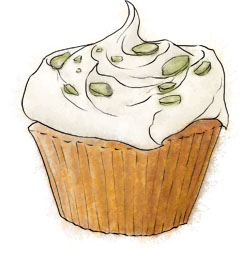 1 stick or 115g room temperature butter
½ cup or 115g sugar
2 eggs
1 cup or 115g flour
¼ tsp baking powder
1 tbsp rose water
1 ½ cup cream
1 tsp cinnamon
2 tsp honey
¼ cup ground pistachios (or whole pistachios (shelled) tipped into a bag then bashed with a rolling pin)
Pre heat the oven to 350 (180 C)
Line the cake tin with paper cases
Beat the butter and sugar together until pale and fluffy (takes about 5 mins – faster in a mixer or with an electric whisk)
Whisk the eggs then add to the mixture a bit at a time until incorporated
Sift the flour and baking powder together then stir in in a few batches
Mix in the rosewater
Spoon into the cake cases and bake for about 15 – 18 mins until the cakes are golden and a toothpick inserted into the centre comes out clean. If you have a dodgy oven (like me) turn the tray half way through cooking to try to get a more even temperature
Transfer to a rack to cool
Whisk the cream with the honey and cinnamon until it's soft but firm and able to hold peaks
Once the cakes are cool, top with the cream and decorate with the pistachio nuts
If you can make that you can make this:
Decorate the cakes with sugared rose petals (wash and dry rose petals, dip in egg white then into sugar, allow to dry)
Add a small dice of Turkish delight to to mixture – about 50 – 100 g, which works out as a handful when I make it
If you don't like rosewater, use orange water, or a tbsp of orange juice and the zest of half an orange
This recipe originally appeared along with a tale of romance and New Year's resolutions.