These cup cakes are inspired by Bounty Bars, which, for the uninitiated, are sweet coconut fondants covered in milk chocolate. Although they're a British brand, I've seen them on sale in NY – in fact, my local bodega stocks them. But if you can't find one, chop up something similar – Lindt do a posh version – or throw in whatever candy bar you think would be delicious.
All the ingredients should be at room temperature before you start. You'll get more reliable cakes if you use scales to measure by weight rather than volume in cups.
Tropical Coconut Chocolate Cupcakes (makes 10 fairy cakes, 6 muffin-sized cakes)
1 stick or 115g room temperature butter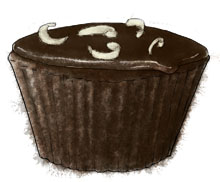 ½ cup or 115g sugar
2 eggs
1 cup or 115g flour
¼ tsp baking powder
3 tbsp good quality coco powder
3 tbsp milk
100g chopped up Bounty Bars
½ cup or 100ml cream
100g dark chocolate (diced) (I buy Lindt chocolate which comes in 100g bars)
3 tbsp dried coconut curls (I get these from a health food shop)
Pre heat the oven to 350 (180 C)
Line the cake tin with paper cases
Beat the butter and sugar together until pale and fluffy (takes about 5 mins – faster in a mixer or with an electric whisk)
Whisk the eggs then add to the mixture a bit at a time until incorporated
Sift the flour, coco and baking powder together then stir in in a few batches
Stir in the chopped up Bounty
Mix in the milk to form a smooth batter
Spoon into the cake cases and bake for about 15 – 18 mins until the cakes are risen and the tops spring back if you press them gently. Transfer to a rack to cool
Heat the cream until it is almost boiling then pour over the chocolate. Leave to stand for 5 mins. Stir until glossy and then leave to cool for 30 mins
Once the cakes are cool, top with the chocolate mixture and decorate with the coconut curls
If you can make that you can make this:
Chop up Snickers bars into the cake batter and add 1 tbsp of peanut butter to the chocolate icing
Chop up Mars bars into the cake batter. Once cooled top with a marshmallow and put under a hot grill to create a blistered toasted topping
This recipe originally appeared in a post about the need for some summer in the middle of a bitter winter, and the importance of shoes for an office party.