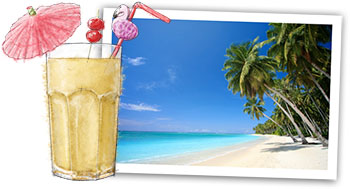 What to wear on a very casual drink after work sort of date?
It's been the subject of much debate, ever since Sara plucked up the courage to re-connect with Sean, the guy who slept on her sofa after a drunken office party after-party.
Much has been written on the subject of taking work wear to evening in three easy steps (essentially add lipstick, change your jewelry, bring an entirely different outfit in a bag), but none of these articles take into consideration the slush that is currently coating the streets of Manhattan with a lethal slick.
Outfits are made or broken by shoes. Even if they're under a bar table and unseen by a date. The way a shoe cups the foot tells the whole body what the mood of the outfit is. Ugg boots may well be cosy and comfy, but, in any other situation than après ski, they don't say Hottie. So what's the solution? Rain boots to get to the bar in, then heels in the bar (though does that look too high maintenance?) Everyday boots with a propensity to skid a bit, and that are the wrong height for the carefully selected smart black skinny jean, cute blouse with horseshoes on it, cashmere cardi combo that has already been preselected? Cute shoes, wet feet and possibly sprained ankles?
We're all hoping that the weather will perk up and render such debate obsolete.
Meanwhile, still in winter denial, I'm cranking up the heating and listening to my Beach Playlist, with such classics as Obla Di Obla Da, and Surfin USA. I'm in a sunny mood, ready to chill out with a tropical cocktail and bring some of my favorite kitsch drink ornaments out of their Tupperware hibernation.
But even here on Fantasy Island, winter is having an effect. I need sunshine that bolsters – coconuts and pineapple sure, but with bananas and chocolate and rum to warm, sooth and comfort.
Banana Rum smoothie (per glass)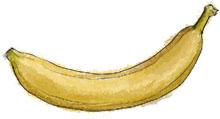 1 ripe banana
1 cup pineapple juice
1 tbsp fresh lime juice
1 measure white rum (Malibu is my tipple of choice)
Handful of ice
Blend together. Serve with as many umbrellas, flamingoes, plastic monkeys, and curly straws as you can find.
Tropical Coconut Chocolate Cup Cakes (makes 10 fairy cakes, 6 muffin-sized cakes)
These cup cakes are inspired by Bounty Bars, which, for the uninitiated, are sweet coconut fondants covered in milk chocolate. Although they're a British brand, I've seen them on sale in NY – in fact, my local bodega stocks them. But if you can't find one, chop up something similar – Lindt do a posh version – or throw in whatever candy bar you think would be delicious.
All the ingredients should be at room temperature before you start. You'll get more reliable cakes if you use scales to measure by weight rather than volume in cups.
1 stick or 115g room temperature butter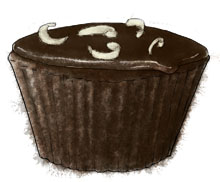 ½ cup or 115g sugar
2 eggs
1 cup or 115g flour
¼ tsp baking powder
3 tbsp good quality coco powder
3 tbsp milk
100g chopped up Bounty Bars
½ cup or 100ml cream
100g dark chocolate (diced) (I buy Lindt chocolate which comes in 100g bars)
3 tbsp dried coconut curls (I get these from a health food shop)
Pre heat the oven to 350 (180 C)
Line the cake tin with paper cases
Beat the butter and sugar together until pale and fluffy (takes about 5 mins – faster in a mixer or with an electric whisk)
Whisk the eggs then add to the mixture a bit at a time until incorporated
Sift the flour, coco and baking powder together then stir in in a few batches
Stir in the chopped up Bounty
Mix in the milk to form a smooth batter
Spoon into the cake cases and bake for about 15 – 18 mins until the cakes are risen and the tops spring back if you press them gently. Transfer to a rack to cool
Heat the cream until it is almost boiling then pour over the chocolate. Leave to stand for 5 mins. Stir until glossy and then leave to cool for 30 mins
Once the cakes are cool, top with the chocolate mixture and decorate with the coconut curls
If you can make that you can make this:
Chop up Snickers bars into the cake batter and add 1 tbsp of peanut butter to the chocolate icing
Chop up Mars bars into the cake batter. Once cooled top with a marshmallow and put under a hot grill to create a blistered toasted topping
Or try making these other cakes.