Ingredients (serves 4 – 6 depending on the size of your ramekins)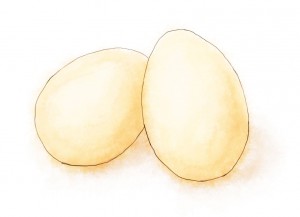 2 bars of Mayan Gold chocolate
¾ cup of heavy cream and ¼ cup of milk
1 large organic fresh egg.
Break two bars of Mayan Gold chocolate into pieces in a bowl.
Pour ¾ cup of heavy cream (double cream) and ¼ cup of milk into a pan and heat until it's just about to boil.
Tip the hot cream over the chocolate and count to 20.
Whisk the melting chocolate into the cream until the color is uniform.
Crack in the egg and whisk again. You're not trying to whip up the mixture, just to really mix everything well.
Pour the mixture into a jug, then from the jug into the little pots. Put the pots into the fridge and let them set for two hours.
(You can let them sit for longer – overnight, a day or so, not much longer because of the egg – but take them out of the fridge to allow them to warm up a little about 20 minutes before you plan to eat them.)
Do you want to make them fancier?
Serve with a jug of cold pouring cream
Or with a fruit salad of orange slices and a little bit of brown sugar
Dust the tops with high quality deep red coco powder
This recipe originally appeared along with an admission that I used chocolate to knock-out my sister.