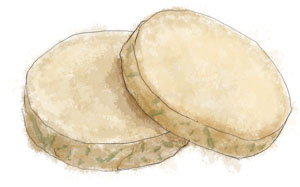 I learned to bake these shortbread biscuits on my first day at a disconcertingly posh cooking school that I attended, where the other girls all had nicknames like Bunny and – no word of a lie – Bugs. The recipe was invented, I believe, to use up scraps of cheese, and that's most usually when I find it comes in handy.
The biscuits are great dipped into bowls of hot soup, or spread with cream cheese, or as part of a ploughman's, with (more) cheese, pate, chutney and celery slices. They form the basis of so many perfect autumnal lunches, and they can be frozen wrapped in saran wrap (cling film) so they can be baked fresh whenever the need arises.
Cheddar Rosemary Shortbreads aka "Grange Disks"

½ cup grated strong cheddar cheese (4oz)
1 stick of room temperature butter (4 oz)
½ cup of flour (4 oz)
1tbsp dried rosemary
2 tsp sea salt and pepper
 
Mix the cheese, the flour, half of the rosemary and the butter together until you get a smooth dough
Cut the dough in half and roll into two sausage shapes
Sprinkle the remaining rosemary, salt and pepper on the surface and roll the dough sausages in it to coat
Chill for 20 minutes, or freeze until you want to bake them, in which case let them defrost on the counter top for 15 minutes
Pre-heat the oven to 400f
Slice the dough rolls into biscuits about 1 cm thick
Bake for 8 – 12 minutes depending on the thickness of the biscuits until golden brown
Tinker with the herb flavors and the cheese flavors to make a variety of shortbreads. If I'm using left over blue cheese I might use oregano instead of rosemary, or caraway seeds and celery salt. I've also been known to add paprika, to roll in sesame seeds or chopped walnuts.
This recipe originally appeared along with a story of love found on a park bench.