Back in New York and back to Huge gossip.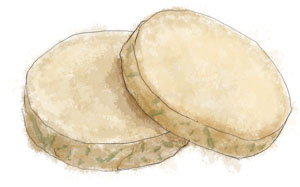 Amazing Grace has met a promising man.
Following a tricky meeting about maximizing product placement in which Anita had been her usual bitch self, Grace had ignored the looks of her colleagues eating sandwiches with one hand and typing with the other, and had taken herself out to the park for five minutes for lunch. Sitting next to her on the bench, she couldn't help noticing the man drinking something slurpy from Shakeshack and muttering into thin air like a lunatic, or, she supposed, into a Bluetooth.
"I think that may be the worst idea of all time. Yeah, it's a long way to Boston. But, some things are just better off face to face …"
She tried not to listen, but it was impossible.
"She's your fiancé. I'm just saying. I don't think you can dump your fiancé on Skype."
Uh, yes, totally, thought Amazing Grace, nodding involuntarily.
He noticed. "The woman sitting next to me agrees. Bad plan."
She blushed.
And after that they got talking, and, even though Grace was not certain she was really in a dating place, she said, (see a tale of two chickens) Â she did in fact agree to meet him for a drink.
Another resoundingly good reason, if one were really needed, not to eat lunch at work chained to a desk and to get out into the day instead, while autumn is still golden and beautiful.
Cheddar Rosemary Shortbreads aka "Grange Disks"
I learned to bake these shortbread biscuits on my first day at a disconcertingly posh cooking school that I attended, where the other girls all had nicknames like Bunny and – no word of a lie – Bugs. The recipe was invented, I believe, to use up scraps of cheese, and that's most usually when I find it comes in handy. The biscuits are great dipped into bowls of hot soup, or spread with cream cheese, or as part of a ploughman's, with (more) cheese, pate, chutney and celery slices. They form the basis of so many perfect autumnal lunches, and they can be frozen wrapped in saran wrap (cling film) so they can be baked fresh whenever the need arises.

½ cup grated strong cheddar cheese (4oz)
1 stick of room temperature butter (4 oz)
½ cup of flour (4 oz)
1tbsp dried rosemary
2 tsp sea salt and pepper
Pre heat the oven to 400
Mix the cheese, the flour, half of the rosemary and the butter together until you get a smooth dough
Cut the dough in half and roll into two sausage shapes
Sprinkle the remaining rosemary, salt and pepper on the surface and roll the dough sausages in it to coat
Chill for 20 minutes, or freeze until you want to bake them, in which case let them defrost on the counter top for 15 minutes
Slice into biscuits about 1 cm thick
Bake for 8 – 12 minutes depending on the thickness of the biscuits until golden brown
Tinker with the herb flavors and the cheese flavors to make a variety of shortbreads. If I'm using left over blue cheese I might use oregano instead of rosemary, or caraway seeds and celery salt. I've also been known to add paprika, to roll in sesame seeds or chopped walnuts.