If you don't have a heart-shaped cookie cutter, you can use a paper template and cut round it with a knife. This recipe makes 12ish cookies depending on the size of the cutter.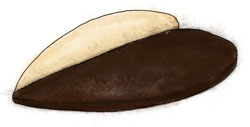 225 g plain all purpose flour
110 g super fine (caster) sugar
110g cold butter, chopped into cubes
1 egg
1 vanilla pod
2 bars of chocolate (I use Lindt dark chocolate)
Pre heat the oven to 350 (180)
Tip the flour, sugar, and butter into a processor
Cut the vanilla pod in half and gently scrape out the seeds. Add to the processor.
Blitz to mix into breadcrumbs
Beat the egg, then add and mix again into a dough
(or rub the butter, sugar, vanilla and flour between your fingers into breadcrumbs, add the egg and mix with a wooden spoon into a dough)
Lightly flour the work surface and roll out the dough to about ½ cm thickness
Cut out heart shapes, using a spatula to transfer them to a baking tray lined with parchment
Bake for 10 – 12 mins – I swap my trays around between the middle and top shelf, and I turn them so that the back becomes the front – though my oven has a mind of its own – you may not need to be so paranoid
Cool on a rack
Melt ¾ of the chocolate very gently either in a microwave or in a bowl over a pan of steaming water. Once it's melted take the bowl off the pan, then chop up the remaining chocolate and stir in to melt in the residual heat (this is a basic from of tempering without all the melting, cooling, re-melting business – the idea is to keep the chocolate temp cool so that it stays glossy)
Dip half each heart cookie into the chocolate and let dry on fresh parchment paper
This recipe originally appeared along with three easy recipes for Valentines day.