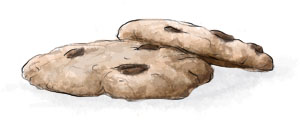 These make a lovely hostess gift – I've been giving them to friends wrapped in cellophane bags and tied with some off-cuts of orange velvet ribbon that Bob the costume guy gave me (in return for a bag of cookies). They make the apartment smell more Thanksgiving-ish than any scented candle, they take five minutes to make and ten minutes to bake.
Pumpkin spiced pecan cookies (makes 12)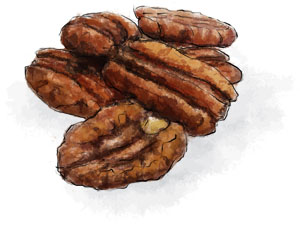 1 1/4 cup plain flour loosely packed (8 oz)
1/4 cup sugar (2 oz) (plus extra for rolling)
1 1/2 sticks of butter (6 oz) cold and cut into cubes
¼ cup chopped toasted pecans

2 rounded tsp pumpkin spice mix
Pre heat the oven to 400
Tip the flour, sugar, spices and butter cubes into a bowl, then rub them through your fingertips until the mixture looks like sandy rubble (or use a mixer)
Press together into a dough
Tip in the chopped pecans and stir to combine
Pour some sugar onto the board (about 2 tbsp – and add 2 tsp of cinnamon if you think cinnamon sugar would taste good here) , then take tsps of the mixture and roll in the sugar into balls
Place these balls on a baking tray with plenty of space between them, squash them down into cookies, then bake for 5-10 minutes depending on the thickness
If you can make that you can make this
replace half the flour with ground almonds
This recipe originally appeared along with the tale of my first Thanksgiving in New York and the 3 Thanksgiving dinners.