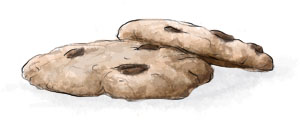 My first experience of Thanksgiving was 5 years ago, when I came to New York for four months. Until then I'd never known the pleasure of a pumpkin pie, never eaten a cornbread muffin, never imagined a green bean casserole, or a marshmallow-studded bowl of baked mashed sweet potato.
But I quickly learned.
Friend Susan was the first person to invite me for lunch. "You have to draw round your hand to make a turkey shape," she told me. "It's gonna be fun. See you at 2."
And on the Tuesday before, my colleague handed me an embossed invitation to her parents' Park Avenue drinks party for Thanksgiving-themed nibbles at 7. "Do I have to draw round my own hand to make a turkey?" I asked her.
"No" she said looking at me as though I'd recently arrived from the moon.
"I'd love to!" I said.
Which is when things took a turn for the Vicar Of Dibley – which for those not familiar with 90's British sit coms, refers to an incident where Geraldine, the titular vicar, attends 4 Christmas dinners to avoid causing disappointment.
On the Wednesday morning my boss approached me with a cheery "tomorrow. 7.30 for 8 then. Paul's made his own stock with actual bones. It's going to be special."
I swear that he'd never so much as mentioned it before.
But I like turkey. So I hatched a plan. Small portions. Walk between parties. Wear a loose dress.
Party number 1. Susan's on the Upper West Side. "So you've never had a Thanksgiving meal before, Kate? Well then, you must try a bit of everything! Here's some corn bread, and a corn bread muffin and mashed potatoes and sweet potatoes with marshmallows, and the turkey, here, and green bean casserole – and this is salad (it was Jelly / Jello. Love that that can be called "salad.") And here's some cranberry sauce and stuffing and gravy … apple pie, pecan pie or pumpkin pie – or all three!"
I waddled to the drinks party where I nibbled a cranberry canapé and a turkey vol au vent and a corn bread toast with sweet potato puree on it, sipped a glass of water and admired what I'm sure was a Manet over the fireplace. Then it was swiftly on to dinner number 2.
"So, Kate, this is your first ever Thanksgiving?"
"Um, yes."
"Well then, you must try a bit of everything! Here's some corn bread …"
Pumpkin spiced pecan cookies (makes 12)

These make a lovely hostess gift – I've been giving them to friends wrapped in cellophane bags and tied with some off-cuts of orange velvet ribbon that Bob the costume guy gave me (in return for a bag of cookies). They make the apartment smell more Thanksgiving-ish than any scented candle, they take five minutes to make and ten minutes to bake.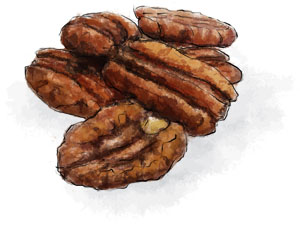 1 1/4 cup plain flour loosely packed (8 oz)
1/4 cup sugar (2 oz) (plus extra for rolling)
1 1/2 sticks of butter (6 oz) cold and cut into cubes
¼ cup chopped toasted pecans

2 rounded tsp pumpkin spice mix
Pre heat the oven to 400
Tip the flour, sugar, spices and butter cubes into a bowl, then rub them through your fingertips until the mixture looks like sandy rubble (or use a mixer)
Press together into a dough
Tip in the chopped pecans and stir to combine
Pour some sugar onto the board (about 2 tbsp – and add 2 tsp of cinnamon if you think cinnamon sugar would taste good here) , then take tsps of the mixture and roll in the sugar into balls
Place these balls on a baking tray with plenty of space between them, squash them down into cookies, then bake for 5-10 minutes depending on the thickness
If you can make that you can make this
replace half the flour with ground almonds