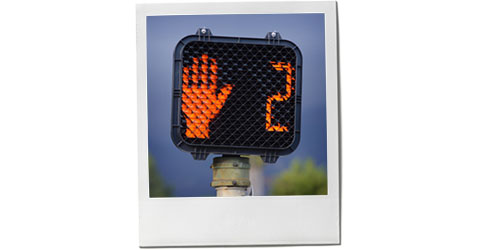 Upon first impressions you may be fooled into thinking that New York is a highly rational place, rooted in the real. Real estate, real hard work, commerce, business – some guy was talking trash to a transvestite outside the Duplex the other night and she threw her shoe at his head. Serious, real stuff.
But look more closely. All this reality is balanced on a shaky foundation of dreams. Fame, fortune, fulfillment, success. Nobody came here to wait tables. No. The guy in the coffee shop is in a band. The woman who did my manicure this week has put her three sons through college and bought her parents a house in a nice suburb of Shanghai. We're dreamers at heart.
So it's no surprise that many of my friends and colleagues have issues with two new city policies that are making life safer and more convenient for all; electronic countdowns on road crossings, and signs on the subway that tell us when the next train is expected to arrive. Yes, London, you read that correctly. New York does not currently have an integrated system of train arrival time notice boards. Yes, it is exactly as annoying as you'd think it would be.
Both of these innovations enable us to make decisions based on the facts. Can I cross Houston street in 8 seonds and not die? No. Hmm. Therefore I will stay here on the sidewalk and wait.
But my friends do not see this bright side. Rather they lament; "How will I know if I am having a lucky day?"
Chicken with Puy Lentils (serves 4 – for 6, add more chicken)

This comforting supper has no funny turns, no shocks or surprises. It's good old fashioned comfort food in elegant French style. Pour a glass of red, and settle in for the night.
The puy lentil recipe is based on one in Yotam Ottolenghi's Plenty, which is one of the most beautiful books I read last year – highly recommend it. Though he uses coriander and cumin and I keep my lentils more in the French school and leave out the spices. The yogurt, stired in at the end, gives the dish a lovely creamy texture and slightly tart finish.
4 bone in chicken portions
½ cup red wine
1 tbsp butter
1 cup puy lentils
2 bay leaves
5 tbsp olive oil
1 medium onion
2 cloves garlic
1 ¼ cups Greek yogurt
2 cups baby spinach leaves
Handful of chopped parsley
Juice of 1 lemon
Salt and pepper
 
Preheat the oven to 375f
Rub the chicken pieces with 1 tbsp of soft butter, season well and put into a roasting tray. Pour the red wine around the meat, cover with foil and roast for half an hour. Uncover and roast for a further half hour until cooked through
Boil the lentils with the bay leaves for 30 minutes, until cooked. Drain and set aside
Meanwhile, dice and fry the onion until soft in a tbsp or so of the olive oil. Grate in the garlic. Cook for 2 more minutes, then tip into the lentils and stir to combine
Stir in the spinach and let it wilt in the heat of the lentils, then add the lemon juice, parsley, yoghurt and the remaining olive oil. Season well
Lay a bed of lentils on each plate and top with the chicken, spooning over some of the pan juices