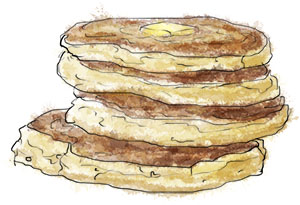 We were in a diner somewhere in the sprawling vastness of Los Angeles, the morning after my school-friend Yoo Na's wedding; a group of Brits, nursing hangovers and jet lag, recovering from the excitement of the festivities (and an exhausting day at Disney, Happiest Place on Earth) in need of a sustaining breakfast.
We ordered pancakes and coffee, and Euan plumped for a large coke.
The waitress was straight out of a 1960's sit com, all beehive hair and pink acrylic nails and perkiness. She bustled away, back chatting with the regulars the whole while, and returned in mere moments with plates that looked as though they had been designed by a toddler with a penchant for stacking blocks. The pancakes teetered vertiginously, surrounded on all sides by strips of bacon like the supporting struts of a tee pee. We admired them, momentarily floored. Where would we ever start with this unbelievable mountain of sweet-scented food?
But start we did, and, somehow, finish. Lick the plate finish in fact. Because the pancakes were delicious. Everything that you could want from an American pancake. A buttermilk tang, a pillow-y texture, a golden carapace, a fluffy interior, a generous soaking of maple syrup. We ate in blissful silence.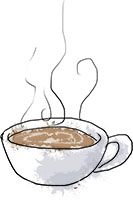 Then the waitress topped up our coffees and filled up Euan's coke.
Having lived in New York for a while now, it's hard to remember that feeling of incredulous delight. Of course we got a coffee re-fill. Of course it was free. Of course it was. But back then, we had barely even heard of such a thing.
"A free refill of coke?" Euan was incredulous. "Totally free?"
"Yes," said the waitress patiently "of course. As many as you like."
"So it's bottomless?"
"Of course."
He took a long and reflective sip.
"This is it," he announced to the table. "We are living the American Dream!"
Buttermilk Pancakes
My quest for the perfect buttermilk pancake is an on-going delight, but the recipe I turn to time and time again is a variant of Martha Stewart's classic.

She melts butter on her griddle before cooking the pancakes. I don't have a griddle, only a frying pan, and somehow the butter seems to burn before the pancakes are cooked, so I cook mine in a drop of vegetable oil.
To make chocolate buttermilk pancakes, which are totally worth trying some time, take out a tbsp of flour and replace with a tbsp of coco powder
Martha stipulates that the batter will make 9 6 inch pancakes.
I tend to make smaller pancakes – 2 inches across, which is about 1tbsp of batter. I get about 25. They can be kept in the fridge and re-heated. I've tried freezing them and that works too as long as you heat from de-frosted rather than from frozen, but honestly, they're better fresh.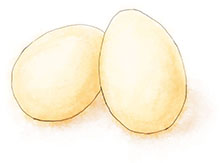 2 cups of flour
2 tsp baking powder
1 tsp baking soda
½ tsp salt
3 tbsp sugar
2 eggs (beaten)
3 cups buttermilk
4 tbsp unsalted butter
Mix all the dry ingredients together
Melt the butter and add to the buttermilk and eggs. Whisk to combine
Add the wet ingredients to the dry and mix – the batter can be a bit lumpy, indeed, it should be a bit lumpy
Heat the griddle (frying pan) until a drop of water fizzes and bounces off
Brush with vegetable oil, then spoon out the batter leaving a generous gap between each pancake
When the top of the pancake starts to bubble like lava, flip it over (about 2 mins) and cook the other side for (1 min)
Keep warm in the oven until you want to serve
Serving Suggestions:
Serve with bacon and maple syrup
Or fresh fruit and a dusting of icing (confectioner's sugar)
Or with sliced bananas, toasted pecans and maple syrup
Or with fresh ricotta and a squeeze of lemon
If you can make that you can make this:
Chocolate pancakes – replace 1 tbsp of flour with 1 tbsp of coco powder
Lemon pancakes – add the zest of half a lemon and a tsp of lemon juice to the batter
Orange pancakes – add 1 tbsp of orange zest and 1 tsp of orange to the batter