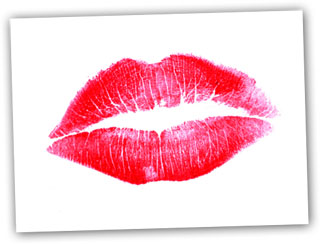 This pasta sauce is literally translated as tart's or whore's. The idea being, I believe, that only slovenly women would make a sauce entirely out of store cupboard ingredients. That said, there's an alternate theory that says the sauce's sharp salty spicy nature is conferred upon the woman who cooks it.
Either way it's good by me.
Traditionally this sauce is served with spaghetti, but it's also delicious poured over roasted chicken pieces, and served with a green salad.
Break open the chianti, slap on some red lipstick and prepare for some downright dirty Italian romance:
It's simple; you make tomato sauce, you add some salty capers and olives, tangy anchovies, and spicy chili flakes, then mix it with cooked spaghetti.
Spaghetti Puttanesca (serves 4)
2 medium onions
½ tbsp butter
½ tsp – 1 tsp sugar / tbsp of milk – these are both ways to bring out the sweetness and reduce the acidic rasp of the tomatoes. Canned tomatoes seem to usually need some help.
1 fat clove of garlic (peeled)
1 large can or 2 normal sized cans of tomatoes – I use whole plum tomatoes and chop them in the can by wiggling my knife around.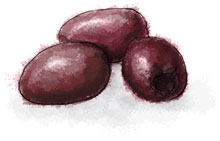 1 tbsp capers
4 anchovy fillets
1 tsp chili flakes – to taste – depending on how hot your chili flakes are
½ cup chopped pitted black olives
Salt and pepper
Olive oil
Packet of spaghetti
Bring a large pan of water to the boil
Meanwhile, make the tomato sauce:
Dice the onions and fry in the butter with a splash of olive oil to prevent the butter burning. Season well
Once the onions are soft and sweet (about 5 mins) grate in the clove of garlic and turn in the heat. Add the anchovy fillets and stir until they melt into the onions
Pour in the tomatoes the olives and the chili. Let the tomato sauce simmer
Salt the boiling pasta water liberally (it should be as salty as the Mediterranean, which to my mind feels like a couple of tsps.) Throw in the spaghetti, stir, then let it boil for 1 min less that the instructions on the box, so that it is nicely al dente
Taste the sauce. If it's too sharp add a tsp of sugar (the tomatoes can often need sweetening up). If it's still too sharp, add the tbsp of milk. If the sauce looks like it's getting too thick, add a little bit of pasta water
Once the pasta is cooked drain it, but not too well (a bit of water helps the consistency of the sauce), and add the pasta to the sauce along with the capers and some extra black pepper
Serve with a green salad and crusty bread. Drizzle some peppery olive oil over the top.
If you're making this for 2, I wouldn't alter the quantities significantly. Leftover sauce can be frozen for another day, and any dinner leftovers are great cold for lunch!