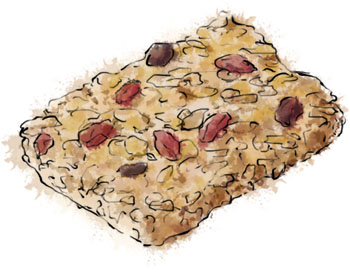 Is anyone else still coming to terms with the spring forward loss of an hour in the mornings? It doesn't seem to have gotten any easier as the weeks go on.
Perhaps it's because spring isn't holding up its side of the bargain. We had thunder snow in New York last week, with lowering clouds and darkness covering the face of the earth from about 3 o clock.
Or perhaps the reason is more personal – my sister and her boyfriend have been visiting from London and we've been staying out till late every night – including a memorable trip to the Duplex piano bar where we were treated to a superb rendition of Rebecca Black's hauntingly relevant lyric "Friday." Party n party n yeah. Gin was involved. Even with 4 hours of jet lag on the side of morning, our guests did not emerge till almost noon.
Either way, being in bed is feeling more inspiring that being out of bed in the mornings, which is why breakfast bars are on my agenda – a motivational Monday Treat that has a positive effect on the whole week as I grab and go and get on with the day.
My favorite breakfast bars – probably because they taste a bit like a solid form of granola with milk – are from Nigella Lawson's incredibly handy book Express. She suggests using a mixture of seeds including sesame, which I tend to avoid because the last thing I need in the morning is a seed / teeth issue, and I also add chocolate chips, because, well, why wouldn't I? That said, it's Lent and I'm a chocolate abstainee, so no chocolate chips for me, but I don't see why anyone else should miss out, so here's the recipe with added chocolate.
Breakfast Bars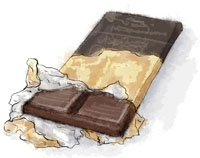 1 can condensed milk
2 1/2 cups rolled oats (not instant)
1 cup shredded coconut
1 cup dried cranberries
1/2 cup mixed seeds (not sesame)
1 cup natural unsalted peanuts (or mixed nuts) smashed up a bit by banging the bag with a rolling pin
1 cup chocolate chips (I usually smash up a chocolate bar and dust with a little bit of flour, which stops the chocolate falling to the bottom of the mixture)
Preheat the oven to 250 and oil a 9- x 12-inch baking pan
Warm the condensed milk in a large pan, then fold in the other ingredients, mixing well
Spread the mixture into the tin, flattening the surface with a spatula
Bake for an hour. Allow to cool for 15 mins, then slice into bars and let cool entirely. Store in a tin and enjoy all week