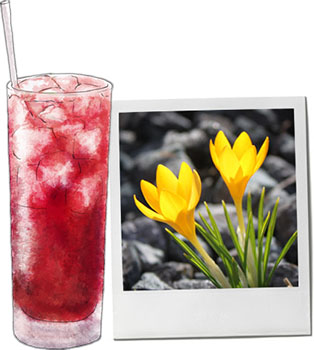 I am prone to blushing, and not in a sweet fresh faced English rose sort of way. Unlike Amazing Grace, who generally looks like a commercial for Benefit tint.
Things are going well with Alex. Blush.
He's basically living with her. Blush.
Which is causing housemate Steven to roll his eyes in a judgmental fashion. Blush.
Not that housemate Steven has a leg to stand on, since she and Alex are discrete and mostly stay in her room, and housemate Steven infamously had sex in the shower without locking the door during a taco party last summer. Blush.
We were drinking – appropriately enough – blushing ladies, which I discovered while looking for an alternative to my beloved seabreezes. Grapefruit are currently in season, and are being sold in multiples on special offer on all the adhoc market stalls that have popped up all over New York since nobody forecast blizzards this week.
The original blushing lady uses pomegranate liquor, but I prefer to use pomegranate juice because it makes for a longer drink, which means that I can drink more of them while gossiping with a girlfriend.
Blushing Ladies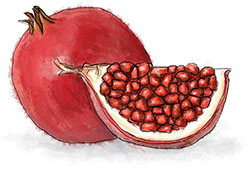 This is a great pitcher drink – good for a crowd – and though there were only 2 of us (though Jon did come home later and get stuck in too) I used the Pom bottle as a measure – a whole bottle of juice, a re-fill of the bottle with grapefruit juice (3 -4 grapefruits) and 1/2 of the pomegranate bottle of vodka.
If you're working in smaller quantities one glass is about 4 oz grapefruit, 4 oz pomegranate, 2 oz vodka.
Fresh Parsley Pesto Twists
Parsley is the first herb to really hit its stride in the spring and this pesto takes full advantage of it.
I like to use it as a marinade for chicken and as a sauce on top of salmon fillets (in both cases I'd add a splash more oil for a looser mixture). Unlike a basil pesto, I think it's a bit too intense to cover a whole bowl of spaghetti, though half basil, half parsley cuts the intensity and tastes delicious.
It can be frozen, and though it goes slightly kakhi in thawing it loses none of its taste.
To make the pesto:
2 cups parsley
2 cloves garlic
2 tbsp pine nuts
¼ cup grated parmesan cheese
¼ cup olive oil
Salt and pepper
Roughly chop the garlic and pasrley to help out your food processor
Blend the parsley, pine nuts, garlic and cheese for about 10 secs
Add the olive oil down the spout until you have a thick paste
Taste and season well
(if you're serving this as a sauce you may want to mix with more olive oil. This sauce keeps well in the fridge for up to a week – pour a layer of olive oil over the top to keep fresh)
To make the twists:
1 sheet of defrosted puff pastry
¼ cup parsley pesto
Pre heat the oven to 400F
Roll out the pastry a bit to get rid of any creases
Spread a thin layer of pesto over it right to the edges
Fold the pastry over itself in half (to sandwich in the pesto)
Slice the pastry into 3 cm wide strips
Twist each strip into a slight corkscrew and lay on a baking sheet
Bake for 10 mins until puffed and golden