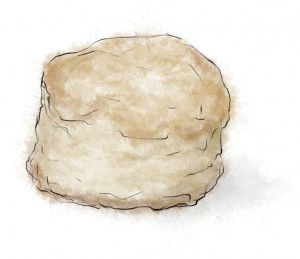 Mere days away from the Royal Wedding, I can't understand why people aren't making more of a circus about it in the media. Nevertheless, I'm looking forward to it with great anticipation, especially since I'm back in London, which is wallowing even deeper than NY in wedding ephemera.

New York had the wedding pizza and the QVC engagement ring, but here in London, flags are flying, plates, mugs, cigarette lighters, tote bags, coins, bagdes and key rings all show the happy couple beaming away. As an avid tea-towel collector, I'm pretty happy with my retail prospects over the next few days.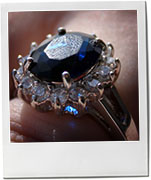 I'm no cynic. I'm more than happy to absorb second hand romance, glamor and excitement whenever I can find them, and so I intend to celebrate wholeheartedly, and wish the happy couple all the luck in the world. Thank you for the show.
It doesn't get more British than a scone, and the genius is that if you're watching the Royal wedding at US breakfast time or UK tea time, it's the snack that fits right in.
These scones are my Grandma's recipe, amended by me to include lemon, which I think helps bring them into breakfast territory if that's a helpful place to be. The butter / vegetrable shortening combination makes for a light crisp scone – if you're making them with all butter, use a very gentle hand in mixing. The addition of egg along with the more usual milk is another Grandma touch – she likes the slightly more cake-y texture that this gives, though she tells me that if you don't have an egg to hand you can you another tbsp of milk instead.

Lemon Scones with Lemon Cream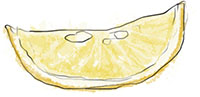 2 cups of flour
¼ cup of sugar
1 large lemon
2 tsp baking powder (check the date on your tub – if it's not well in date there's really no point)
1/3 cup of fat – a 50:50 mixture of unsalted butter and vegetable shortening (fridge cold)
1 egg
½ cup of milk
1 cup of whipping (heavy) cream
2 tsp confectioner's sugar (icing sugar)
1 tbsp lemon juice
Pre heat the oven to 375 f
Cut the butter and lard into cubes
Tip the dry ingredients into a bowl and add the fat
Using your fingertips (or a food processor on pulse) rub the fat into the flour mixture until it resembles breadcrumbs
Grate in about 2 tsp of lemon zest
Add the egg and mix gently with a metal spoon (or pulse once of twice in the processor) – you really don't want to over mix now, or the glutens I the flour will develop and you'll get rock hard scones
Add the milk a spoonful at a time until the mixture comes together – you might not need all of it
Tip onto a floured board and roll out (grandma uses a roll of tin foil so she can rip off the layer and save on washing up)
Use a floured cutter or the rim of a glass to cut out the scones. Use a twisting rather than a pressing motion – it seems to make them rise better
Brush the tops with milk or egg and sprinkle with a little bit of sugar
Bake for 15 – 18 minutes, depending on the size of the scone until they are golden brown
Add the sugar and lemon juice to the cream, along with another 2 tsp of lemon zest. Whip until soft and billowing

I sometimes add a handful of fresh blueberries to this scone mix, dusting them with a little bit of flour first to stop them all sinking to the bottom. It's especially nice to have the fruit if this is going to be a breakfast scone – and serve the lemon cream or even some plain yogurt and fresh blueberries alongside.