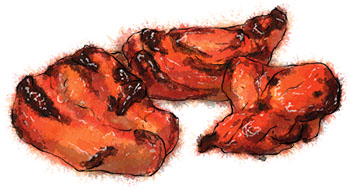 The Royal wedding is over. No more dress speculation, no more gossipy documentaries, no more newspaper specials and magazine picture spreads. No more wearing the QVC ring in public without looking a bit odd. It's such a downer. A double downer for me since – the Other Wedding is over too.
Helen and Chris got married! The bride looked exquisite. It did not rain. My Grandma cried in a happy way. People wore hats. Adorable Baby Emily was adorable. I ate a lot of fruit cake. It was a fabulous day.
What to do after a weekend of such excitement? Of scones and tea and cake and toast and chicken and salmon and other old school Bristish delicacies? Go out for a curry, of course.
When I was 17 I went to Calcutta to work in a school run by an NGO. But rather brilliantly, my trip coincided with several bank holiday weekends, a public holiday, a founder's day holiday and a power cut, so I had more time off than I could have imagined – more time to explore the markets and eat masala dosas. By the time I came home, I was addicted.
My father and I, aided and abetted by the rest of the family, began a comprehensive survey of Indian restaurants, focusing our search in Tooting, where we tracked down our favorite food to a restaurant decorated by a believer in brown near St George's Hospital, where the diners are supervised by a mannequin dressed in a traditional green mask, headdress and appropriate flourishes. Several years later, my sister rather handily moved in across the street.
This "tandoori" chicken is not actually tandoori chicken at all – unless you happen to have a tandoor clay oven in your apartment, in which case, I take it all back, your chicken is tandoori. But this spice-scented meat is what I make in New York when I want to evoke memories and shake things up a little.
Tandoori Chicken (serves 4)
8 boneless chicken thighs
150g pot of natural yoghurt (low fat is fine)
1 tbsp masala curry paste (or you can make your own, see below)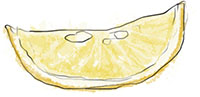 1 lemon
2 tsp minced fresh ginger
2 cloves of minced garlic
1 tsp cumin
1 tsp coriander
1 tsp turmeric 1 tsp paprika or chili powder
For the raita
½ cup yogurt
1 pomegranate (don't know the de-seeding a pomegranate trick?)
Mix the spices, lemon juice, curry paste and yogurt in a bowl and marinade the chicken for at least hour – or in the fridge overnight
Heat up a griddle pan until smoking hot and pre heat the oven to 350f
Grill the chicken, don't poke it around – just lay it on the griddle and leave italone for 3 mins, then turn it. Put into the oven for 10 mins until cooked through (you can complete the cooking on the griddle pan if you have a big enough one, but the oven method enables you to cook all the chicken more or less at the same time and keeps it out of the way
Mix the ½ cup of yogurt with the pomegranate seeds serve the chicken with a dollup of the raita alongside
If You Can Make That You Can Make This
Mix the yogurt with chopped fresh cilantro (coriander) and lime
Or with chopped mint and diced cucumber
Curry Paste
2 cloves garlic
2 inches of fresh ginger
2 tsp paprika
2 tsp garam masala
1 tsp cumin
1 tsp coriander
½ tsp salt
2 red chilies
2 tbsp vegetable or groundnut oil
2 tbsp tomato puree
1 handful fresh cilantro
2 tbsp ground almonds
2 tbsp desiccated coconut
Juice from 1 lime
Blend everything together in a processor
This spice paste keeps well in the freezer – I freeze it in an ice cube tray then pop out the cubes into freezer bags.