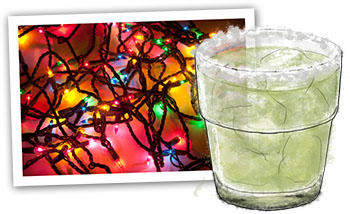 "Mostly I would like an actual pet gecko" said my Godson Arthur as we tucked into our pizza before heading into the Science Museum. "Not a glow in the dark plastic one" (like the one I had just given him – yes they exist) "a real live one. Do you think I'll get one one day?"
"Um," I hedged. "You'll really have to ask your Mother."
But life is tough like that. Real Pet Geckos are notoriously hard to come by – mostly we have to make do with plastic. And, in a week where the number of eligible princes in the world has been significantly reduced, it's something worth reflecting on. 
It's a sentiment that's been resonating with my friends back in New York. "Sure the Royal Wedding was romantic and everything" emailed Sara, "but it's not like a Real wedding is it?! It's not like it's MY wedding or anything."
And for Lizzy who found heady love on a summer climbing excursion, the inevitable mid-week slump has been harder than usual. It seems that J had booked a table at River Cafe, which, Lizzy had mentioned in passing, would be a great place to get engaged. Convinced that diamonds were on the menu, she dashed out to purchase an Engage Me Dress, got her hair blow dried, put on the Engage Me Dress, ate dinner and was Not proposed to. It was just dinner at River Cafe.
So thank goodness for Cinco de Mayo, or we'd all be suffering from post wedding blues, luckily, hooray, there are tacos on the horizon, and margaritas, and we will probably survive after all.
I love to throw vaguely Mexican themed parties any time of the year – a chance to string up my chili lights and crack open the tequila. It's one of the less arduous themes to put into action – a bowl of tortilla chips and salsa, a pan of chili and you have a fiesta on your hands.
I should come clean – I've never been to Mexico, not even close, really, so these recipes are based on wishful thinking, dreams of the place, but this is what I cook and drink when I want to feel in a sunshine mood –
Lime Margarita (per glass)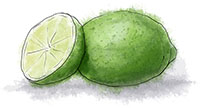 1 measure lime juice
1 measure tequila
1 measure cointreau
superfine sugar to taste
salt
Grate the lime zest onto a saucer and add some salt. Cut the lime in half, and wipe the juice around the rim of the glass, dip the rim into the lime salt
Juice the lime, measure, then shake the ingredients over ice – taste – you may need a bit of sugar if the lime is very sharp – add sugar, shake again and serve
Slow cooked chicken tacos (serves 4)
4 – 6 chicken thighs (bones removed)
3 cloves of garlic
½ cup canned tomatoes
2 scallions (spring onions)
1 tsp sugar
1 green chili
1 bunch of cilantro chopped (about ¼ cup) and 1 bunch un-chopped
(or use ½ cup of shop-bought salsa, the garlic and chicken – I use  Rosa Mexicano's salsa when I can find it)
8 hard shell tacos
1/2 cup shredded cheese
2 limes
½ cup sour cream
Salt and pepper
If you're making the salsa sauce from scratch: roughly chop the onion and cilantro and put in the processor along with the tomatoes, the green chili (deseeded – again, adjust this to your taste, I like it medium hot), and the sugar, grate in the garlic (so you won't end up with garlic chunks in the sauce) and blitz to blend
Pour this salsa (or a good quality shop bought salsa) over the chicken and season well
Bake the chicken either in a slow cooker on medium for 4 hours, or in the oven (covered with foil) at 300f for about 2 1/2 – 3 hours (check after an hour – you may need to add a splash of water to to the salsa)
Cut the limes into wedges and arrange the cheese, fresh cilantro and sour cream in bowls on the table along with the tacos
When the chicken is cooked, shred it into bite-sized pieces
Let people make their own tacos
If You Can Make That You Can Make This
Substitute the chicken for stewing steak to make beef tacos
Serve the chicken over tortilla chips rather than in tacos for a delicious take on nachos
Or consider adding some rice spritzed with lime, and heating up a can of black beans so that you can make burritos