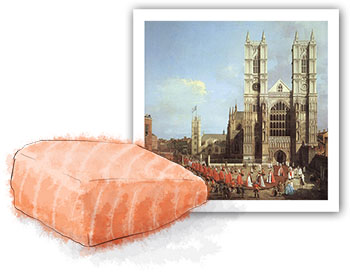 It's been a week full of wedding anticipation – and the dinner that I have in mind is in keeping with the mood. Elegant food, old fashioned flavors, perfect with champagne and a silver candelabra.
Salmon and new potatoes is a classic British wedding dish. In fact, it's what Charles and Diana ate at their wedding, and it's what I ate at my wedding. Jon, who hates fish, opted for sausages. (It was kinda an eclectic meal.)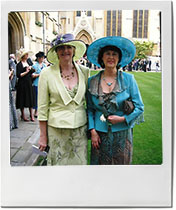 My friend Bob had never been to a British wedding before and was most struck by the millinery on display. "I saw your Mother try to hug Jon's Mother when she came into the church and they clashed hats, oh my!" he told me later. "It was pure MGM – I kept searching the sky for the roaring lion."
It makes you wonder; does the Queen have that problem every single day of her life?
And though today is the Royal Wedding, there are other weddings in town, notably my cousin Helen's, also scheduled for this weekend, after we've enjoyed the warm up show kindly provided by the British Monarchy.
More romance to come. No need for wedding withdrawal just yet. Happiness is.
Salmon, Pea and mint puree and new potatoes (serves 2)
6 – 8 new potatoes depending on the size and how many you think you'll eat. If you can find Jersey Royals you should buy them and enjoy them. Quite simply the best new potatoes anywhere in the world.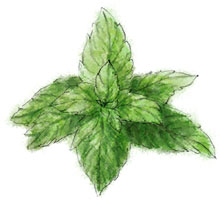 2 salmon fillets
1 cup of frozen peas
1 tbsp chopped mint
Butter (about 1 ½ tbsp total)
lemon
Salt and pepper
Lemon
Pre-heat the oven to 450 f
Wash the new potatoes and put in a pan of cold salted water. Bring to the boil, cover and cook for anywhere between about 10 mins to 20 mins, depending on the size of the potatoes. While you're filling up pans, put on one for the peas.
Season the salmon fillets and place them in a baking dish. Squeeze some lemon juice on top (about a tsp per fillet) and dot with about a tsp of butter each. Cover the dish with foil and bake for 10 – 12 mins
Boil the peas for a couple of minutes until cooked through, then drain into a processor
Add the chopped fresh mint, about ½ tbsp butter, and a squeeze of lemon juice (about 1/2 a lemon) season well and blend
Check the seasoning and adjust (you can make this in advance and heat up before dinner if that makes life easier)
Pile some of the puree onto the plate, put the salmon on top and add a few potatoes on the side with some butter melting on the top
Drink champagne, and serve fresh raspberries and cream for dessert
If You Can Make That You Can Make This
Switch out the mint for basil and use a mild olive oil instead of the butter for a sprightlier quasi-Italian take
Make risotto and stir in the pea puree (with the basil), then serve the fish on top
Or add cilantro and a little bit of fresh green chili for a pseudo-Mexican flavor – not authentic, but great with chicken or fish spritzed with lime