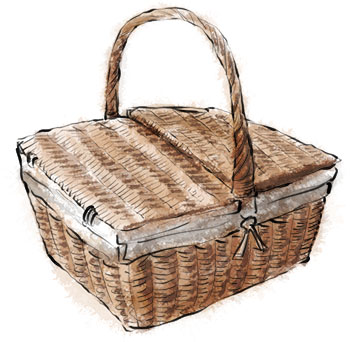 It has been said that all you need for a really great picnic is a baguette, a ripe brie, a bunch of grapes and a bottle of wine.
But why would you want to stop there?
Add a jar of cornichons or a jar of roasted red peppers. How about some celery sticks? Green apples – maybe some strong cheddar to go with them. What about a bag of fresh cherries, or a tub of cherry tomatoes? A pot of olives, or a plate of smoked salmon, a breadstick or two, a bag of potato chips?
I love picnics. Which you might not expect, since, what with the mosquitoes, the chance of rain, and lack of civilized bathrooms, I'm not exactly the outdoors type. I don't dislike Nature, obviously, I'm really happy that it's there, but I rarely feel the need to hike through it, climb up it or sit on it. But if there's likely to be a picnic, I'll be there.
So it's no surprise that I'm also a fan of the urban picnic – on a balcony, in a garden, on the floor of the living room in a rain storm, I'm up for it, let me fetch my rug.
My first indoor picnic experience came courtesy of our good friends Lyndsey and Simon, who had recently returned from France with a suitcase full of cheese. "They've asked us for a bread and cheese dinner," I told Jon. "Do you think that means only bread and cheese? All the cheese we want? No filler, no you have to eat salad now to assuage health guilt, Just Cheese?!" All our hopes were met and exceeded. I have never seen so much cheese. Crackers, bread, celery, apples, and more cheese. And lots of red wine. It was one of the most laid-back, downright fun and indulgent dinners I've ever had.
As summer heats up in NYC, and Washington Square Park emerges from years of scaffolding into the sunlight, opportunities for alfresco bread and cheese are many. And though I love a "let's go to Chelsea Market and pick up cheese n stuff for a picnic" picnic as much as the next gal, I also enjoy a more organized, dare I say it, pre-planned affair. And so it is that spirit that I offer up these sandwiches (to go alongside the cheese …)
Pressed Mediterranean Sandwich (serves 6 as part of a picnic)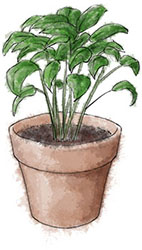 1 ciabatta loaf
8 – 10 sundried tomatoes
2 balls of mozzarella
6 – 8 slices of prosciutto
Handful of basil leaves
Handful of pine nuts
Handful of grated parmesan cheese
1 clove of garlic
Olive oil
(or a jar of pesto)
Salt and pepper
Make the pesto by putting the basil, pine nuts (toast them first in the oven if you have time) and cheese in a processor. Grate in the garlic, then blend, adding olive oil through the hole in the top to make a thick paste. Season well
Slice the ciabatta lengthwise, spread both cut sides with the pesto, then build up the filling in layers, ham then cheese slices, then sundried tomatoes, more cheese slices etc, seasoning each layer
Sandwich the bread together again, wrap tightly in plastic wrap and put in the fridge with cans on top of it to weight it down (it might balance better to put a baking tray on top, then the cans on the tray). Refrigerate overnight.
Slice cross-ways into sandwiches

If You Can Make That You Can Make This
Change up the filling – add more layers of meats – a smoked ham as well as a cured ham, some slices of salami
Add sliced black olives
Use goat cheese or provolone rather than mozzarella
Add hardy salad leaves – arugula is ideal – or a layer of basil leaves
Coronation Chicken on Walnut Raisin Bread (serves 6 as part of a picnic)
1 1/2 cup of chopped cooked chicken breast (That's about 3 chicken breasts, which I like to roast it on the bone, skin on, seasoned with salt and pepper, then take off the skin and bone and cube into bite sized chunks, though you can buy them already cooked)
1 small bunch of parsley chopped (about 1 tbsp)
½ a fresh mango (about ¼ cup cubes)
1/4 cup mayonnaise
1 lime
1 tsp curry powder
¼ cup dried cranberries
12 – 16 slices of walnut raisin bread (or similar)
Mix the cold chicken with the mayonnaise, the curry powder, the cranberries, the parsley and the zest and juice of half of the lime. Season well with salt and pepper
Peel and cube the mango and stir in gently
Make sandwiches out of the chicken mixture, cut off the crusts and cut into threes lengthwise, or into quarters in triangles, or make open sandwiches out of finger rolls. Transport on ice packs to your picnic destination
Classic BLT
You know how to make this – white bread, mayonnaise with a squirt of lemon in it, bacon, lettuce and tomato. A few tips though:
Bake the bacon in the oven laid out on a cooling rack set in a tray rather than frying it. The bacon stays flat, the fat drains through the rack into the tin below, the kitchen smells good. This tip comes by way of Ina Garten who is a genius.
Take the lettuce and tomato slices in tupperware and add to the sandwich at the last moment so the lettuce stays crisp and the tomato doesn't make the bread go soggy.
Shrimp Roll (per serving)
It's fiddly but it's worth it.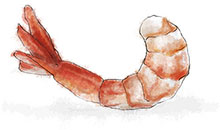 4 – 6 inch long shrimp per person
½ celery stick
1 tsp chives
½ tsp lemon juice
1 tbsp mayonnaise
Salt and pepper
Preheat the oven to 400f
Peel and de-vein the shrimp (or better yet, buy them that way from your fishmonger)
Toss with olive oil, salt and pepper and lay on a baking tray. Roast for 8 – 10 mins until pink (or buy them already cooked from your fishmonger)
Meanwhile dice the celery and mix with the mayonnaise and lemon juice. Snip in the chives and season well
Spread rolls with the mayonnaise and top with the shrimp and some arugula if you like – they are delicious hot, but if you're planning to eat them cold, chill the shrimp as soon as they're cool enough to transfer by hand to a dish in the fridge. Chill until you want to eat, and transport to the picnic on ice packs
Open face radish sandwiches (per slice)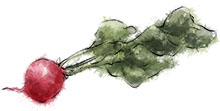 I am Peter Rabbit for a radish. I just love them. The fantastic pink color, the tangy peppery flavor, that intense crunch … I was reminded of how great they are as the star of a sandwich by a photograph on the beautiful blog Canal House Cooks Lunch. I prefer mine on brown bread, but the principle is the same.
1 slice of crusty brown bread
Unsalted butter at room temp for easy spreading (about 2 tsp – 1 tbsp)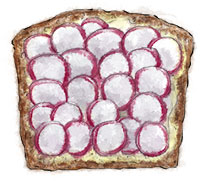 2 or 3 radishes
Salt and pepper
Thinly slice the radishes
Butter thick slices of brown bread generously with unsalted butter, then top with the radishes
Season well