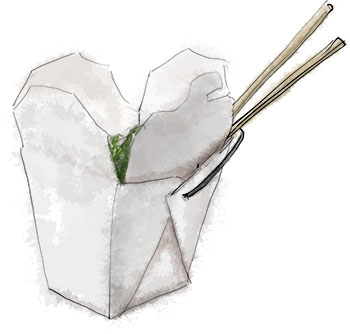 Heavily into picnic mode, Jon and I went for a walk on the High Line – not some kind of strange circus stunt, but rather a modern park elevated on disused railway tracks above the city, meandering through the buildings from Chelsea Market to 30th street.
It was there that we met Steve.
New York is a city with a lot of inhabitants. Really. A lot. So the chances of running into anybody by accident should be fairly slim. And yet it happens. All the time. So there we were, picnic bag in hand, and there was Steve. And there was Steve's date. His first date. Which is not the best time to run into friends.
We managed a polite hello, and then we attempted to leave them to it.
The thing is, the High Line is a fairly narrow promenade sort of park. Basically, you climb up there and everyone walks along as though it's a giant conveyor belt until you climb down again. So having started our walk in step with Steve and the date, we kept in step with them, a constant third wheel. We'd slow down to try to give them more space, only they'd had the exact same idea at the exact same time, so there we were again, walking along, on Steve's date.
Would we still be in step with them by the time we found a lounger to eat our picnic on? Would we therefore feel duty-bound to offer round our picnic treats? And would they be too polite to tell us No, they were on a date, damnit!? Leave us alone!
Luckily, Jon's shoelace broke causing a genuine hiatus and they were able to continue on their stroll un-chaperoned.

I try to stay away from especially delicate leafy salads when I'm making food that has to travel. There are few sadder sights than a soggy and wilted bowl of greens. That said, I love to eat salad at a picnic. The fresh-ness is so perfect for an alfresco setting. So I have to devise work-arounds – robust leaves like arugula, a focus on vegetables and fruit.
I'm also a lifelong hater of tupperware. Sure it's useful, but the slime-y mess that has to get washed up afterwards makes me think twice about making the food in the first place. This might be a hangover from taking a packed lunch to school.
So my work-around is this; I buy paper Chinese take-out boxes from Pearl River Mart (though you can find them in kitchen stores and on Amazon). I think they're inherently attractive. Everyone gets their own container of salad – no sharing necessary. This suits people like my husband who grew up with 3 older brothers and adapted an eat quickly while there is food left policy to survive. I'm also a big fan of the wooden chopstick over the plastic fork. Most of these salads can be chopsticked. Bonus, both the boxes and the chopsticks can be thrown away or recycled, so there's less to carry home again afterwards.
Watermelon salad (serves 4)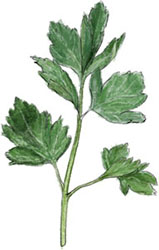 3 cups of watermelon chunks
2 pack of cards-sized chunks of feta cheese
1 large handful of parsley
1 cup of pitted black olives
Extra virgin olive oil
Cut the feta into large wedges (otherwise it just turns into crumbs), then gently combine with the melon and the olives
Spoon into boxes
Rip the parsley over the top then dress with a generous drizzle of a peppery olive oil
Griddled Zucchini Lemon Salad (serves 4)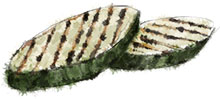 4 zucchini
2 lemons
¼ cup pine nuts
Parmesan
4 cups arugula (baby arugula is even better)
Olive oil
Salt and pepper
Heat up a grill or a grill pan until it's smoking hot (about 4 minutes)
Slice the zucchini into coins, slightly on the diagonal so they look like fat spears (this gives them a larger surface area to hit the grill). Toss with some olive oil and salt and pepper
Line the slices up on the grill. Leave them alone. After 2 mins, try to lift one up. If it sticks it's not done. Leave it alone, try later. Turn the slices and grill again
Once cooked tip back into the bowl with the residual olive oil and seasoning, squeeze over the juice of half a lemon and let cool
Toss the arugula with a spritz of lemon juice and a little olive oil, then toss with the cooled zucchini
Toast the pine nuts in a dry pan until golden, then add to the salad
Spoon into boxes then top with shavings of parmesan (made with a vegetable peeler)
Grilled corn, tomato, and black bean salad (serves 6)
4 ears of corn
3 plum tomatoes (or ½ cup cherry tomatoes)
1 red onion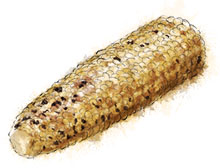 1 large bunch of cilantro (coriander)
1 can black beans
2 limes
1 green chili
Olive oil
Salt and pepper
Shuck the corn and grill on a BBQ or in a griddle pan until charred. Hold the corn long-way up on the chopping board and carefully run your knife down the length to slice off the kernels
Slice the cherry tomatoes into quarters, de-seed and thinly slice the chili, and chop the red onion into a small dice
Drain the beans and rinse thoroughly. Dry on paper towels
Combine the beans, corn, onion, tomatoes and chili in a bowl and snip the cilantro in with scissors
Mix the lime juice with double the volume of olive oil and a generous pinch of salt and pepper, then toss the salad with the dressing (you may not need all of it – go carefully, you can always add more, but you can't take it out again)
Spoon into boxes and serve
Greek Salad with Orzo (serves 6)
400g orzo (my boxes are 450 so I use a whole box and keep leftovers in the fridge tossed with a little olive oil)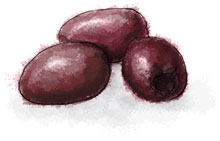 4 tbsp olive oil
1/2 tsp dried oregano
1 large lemon or 3 tbsp red wine vinegar
generous 1/2 cup of diced feta cheese
1/2 cup pitted kalamata olives
1/2 cup halved cherry tomatoes
1 hot house cucumber
2 red bell peppers
Salt and pepper
Bring a large pan of water to the boil. Salt it and add the orzo. Cook for 1 minute less than the box instructions so that it is al dente
Drain, then tip the orzo back into the warm pan
Pour over something in the region of 4 tbsps of olive oil
Zest half the lemon over the top and squeeze in the juice
Slice the peppers into bite-sized chunks, slice the cucumber in half, take out the seeds with a teaspoon (this stops the salad from getting soggy) and slice
Mix the feta, halved cherry tomatoes, olives, cucumber, pepper and oregano into the orzo, then chill
Spoon into boxes, and season with a final grinding of black pepper
Roasted vegetable salad (serves 4)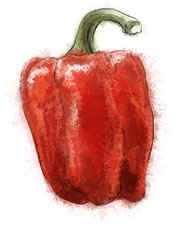 2 red bell pepper
1 yellow bell pepper
2 red onions
2 carrots
2 zucchini
1 handful of basil
1 cup mini mozzarella balls (or 2 balls of mozzarella ripped into bite-sized pieces)
Olive oil
Balsamic vinegar
De-seed and slice the peppers into 12 bite-sized pieces, quarter the onions, slice the zucchini and carrot into coins slightly on the diagonal
Toss with olive oil and a tsp of balsamic vinegar
Roast at 400 for about 20 minutes until the vegetables are tender
Chill, toss with a little more balsamic and olive oil, then add the mozzarella and the torn basil leaves, and spoon into boxes