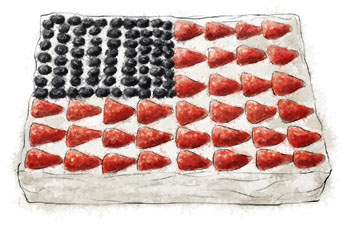 Even though it's only my 3rd 4th of July in New York, some traditions have already been set in stone.
There will be a BBQ at Susan and Matt's. We will be watching the fireworks from the banks of the Hudson. There will be hot dogs and there will be beer. There will also be flag cake, because I am a sucker.
I should have noticed the glint in Susan's eye that first 4th of July when she assured me that flag cake was an essential part of the celebration. I was (still am) British, and I was on my best behavior, keen to fit in with the natives and get behind the particular quirks of their parties. Also, I know how heartbreaking it is to expect something at a traditional dinner – Christmas pudding at Christmas for example, and then to discover there won't be any this year because chocolate cake would be better. Better, maybe, but right? Absolutely not. I had been trusted with this very important cake. I was going to take it seriously.
So I turned to Ina. Of course. And Ina's recipe directed me towards the largest cake in the world.
"We need the right pan," I told Jon. "None of ours are going to cut it, and this has to be perfect or people might get upset."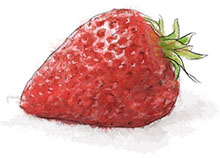 I went to Fairway for ingredients. He headed out to Crate and Barrel, then to K Mart, to Broadway Panhandler and eventually gave up and went to the pub. I went to Bed Bath and Beyond and found a tray that would do at a push. It was smaller, but it was still the largest tray I've seen in a domestic kitchen, and it was right at the capacity of our oven. Sold.
So, back home with the pan and a chicken coop full of eggs, on, incidentally, the hottest day of the year so far, baking occurred. Then icing occurred. To reiterate. Hottest day of the year. Then decorating, which Jon turned out to have a real flair for. It was gorgeous. Magnificent even. It was the biggest most awesome cake in the world. No word of a lie. Ina was dead right.
"How are we going to get it from the Upper Westside to Jersey?" wondered my husband.
It was a good question.
On the butcher's block, wrapped around with deconstructed cardboard boxes, it turned out. So we did finally get the cake on the ferry in the burning afternoon sun to Jersey. And we placed it triumphantly on the picnic table. Where total strangers photographed it exclaiming things like, "Wow, is that an actual Flag Cake! I've only ever heard of such things in myths and movies. Did you Make it? I didn't know people actually Made them. Is that a British thing?" Susan laughed. Quite a lot. And then we ate it.
Year 2, 2nd 4th of July, and now I have a reputation for my Flag Cake.

We get invited to three BBQs. With three requests for Flag Cake. "I've always wanted to see one in real life," says friend Jess. Older. Wiser. Smaller cakes. In disposable foil tins. Double layered for added sturdiness in transport. We live and learn.
Year 3. Confident with my material I'm adding a new element: red and blue fruit IN the flag cake. There is nothing more to say.
Flag Cake
Here's the UR Ina version if you intend to feed upwards of two dozen people. I have more moderate desires, and, since the icing is frankly all that anyone really cares about, I make an all in one sponge, a classic 3:6:6:6 cake. If you have a stand mixer, this is an easy bake. If you don't have a stand mixer or an electric whisk, you are in for an arm work out.
This cake will fill one half sheet pan – or you could do two layers in a quater sheet pan – they're quite thin layers, so you could stack them with butter cream, which I usually do, or with whipped cream and fruit.
I usually use half sheet pans and make two batches. These cakes freeze really well as long as they're wrapped in foil or plastic wrap. The skinnier the cake, the less time it will take to cook. If I'm using foil pans I double them. This insulates the cake better and it cooks more evenly.
It's also worth mentioning that the cake itself is really the least important part of a Flag Cake – if you wanted to use a box mix, you wouldn't hear judgement from me.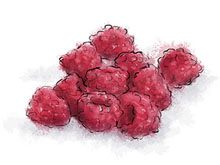 3 eggs (at room temp)
6 oz soft butter
6 oz sugar
6 oz flour
(milk)
1 tsp baking powder
½ tsp good vanilla extract or the seeds scraped out of a vanilla pod
1 handful each of raspberries and blueberries
Pre-heat the oven to 375f
Whisk the eggs and sugar until they're fluffy, then add the vanilla, butter and baking soda. Mix to combine. It's really important that the butter is room temperature or you're on a hiding to nothing
Add the flour and stir until it's just mixed
The mixture should drop off a spoon if tapped on the side of the bowl. If it doesn't, add a drop of milk until it does – maybe a tbsp
Toss the berries with a light dusting of flour (this stops them all sinking to the bottom of the cake) and fold into the mixture with a spoon (not the electric whisk)
Use the butter packet to grease the baking tray, then pour in the cake batter
Bake in the middle of the oven to get as even a heat as possible for 20 mins. Don't open the door if you can help it – the cake will fall if you do. Since ovens vary dramatically (and the size of your tin might not be quite the same as mine) check on the cake at this 20 min point, but be prepared to leave it for another 5 or even 10 minutes. The top should spring back to the touch, the sides should spring back from the pan, and a toothpick inserted should come out clean
Let the cake cool on a baking rack
For the icing
3 cups confectioner's (icing) sugar
1 cup soft butter
½ tsp vanilla extract
(milk)
1 carton blueberries (about 1 cup)
3 boxes of strawberries or raspberries (about 3 cups)
Sift the icing sugar or you will end up with lumps
Whisk with the butter and vanilla until it's a smooth spreadable paste. If it's too thick add milk drop by drop until it's perfect
Ice the cake
Decorate with strawberries and blueberries (or raspberries and blueberries)
Make sure the fruit it dry when you decorate, or the juice will bleed out into the icing