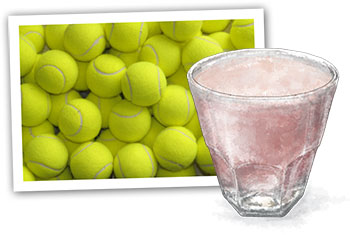 Two happy co-incidences align to strawberry-tint my world this week.
One, the discovery of freeze dried strawberries at Trader Joes, brought to my attention by my friend Grace. "They're Yuppie crack. You just can't stop eating them!"
The other, of course is Wimbledon, which has, for the first time, introduced me to the world of ESPN with its insightful interviews; "And we're here in the studio with Maria Sharapova, who just played a great game out there, recovering from serious injury to silence her critics. It's good to have you with us Maria. So, can we get a close up of your engagement ring?"
The big screen is up at Rockerfella centre showing live coverage, and I met Grace (plus freeze dried strawberries) there at lunchtime to admire the strength, skill and elegance of the sport / lust after the beautiful players.
"Those white shirts really help show off their muscle definition."
"That's exactly what the committee at Wimbledon had in mind when they imposed that rule."
"The one on the right has better hair than the one on the left."
"Totally."
Next year we may offer our services as commentators to ESPN.
Strawberries and Cream Cocktail (makes 2)
This cocktail tastes like a really good strawberry milkshake, and indeed, I have made it with strawberry ice cream added as a dessert after a BBQ.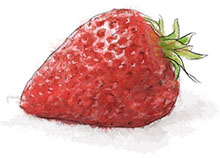 ½ cup strawberries plus a few for garnish
1 cup half and half (or cream)
½ cup ice
2 shots white rum
1 shot amaretto
Measure the ingredients into a blender
Blend, then serve garnished with a strawberry
Strawberry Scones with Strawberries and Cream
2 cups of flour
¼ cup of sugar
2 tsp baking powder (check the date on your tub – if it's not well in date there's really no point)
1/3 cup of fat – a 50:50 mixture of unsalted butter and vegetable shortening (fridge cold)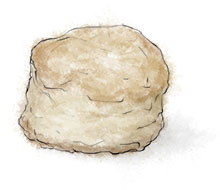 1 egg
½ cup of milk
¼ cup freeze dried strawberries (optional, just leave them out if you can't find them)
1 cup of whipping (heavy) cream
2 tsp confectioner's sugar (icing sugar)
1 cup strawberries
Pre heat the oven to 375 f
Cut the butter and lard into cubes
Tip the dry ingredients into a bowl and add the fat
Using your fingertips (or a food processor on pulse) rub the fat into the flour mixture until it resembles breadcrumbs
Add the egg and the freeze dried strawberries, mix gently with a metal spoon (or pulse once of twice in the processor) – you really don't want to over mix now, or the glutens I the flour will develop and you'll get rock hard scones
Add the milk a spoonful at a time until the mixture comes together – you might not need all of it
Tip onto a floured board and roll out to about 1 inch thick
Use a floured cutter or the rim of a glass to cut out the scones. Use a twisting rather than a pressing motion – it makes them rise better
Brush the tops with milk or egg and sprinkle with a little bit of sugar
Bake for 15 – 18 minutes, depending on the size of the scone until they are golden brown. Cool for 5 mins on a cooling rack
Add the confectioner's sugar to the cream, then whip until soft and billowing
Slice the scones in half, dollup on some cream, scatter over some strawberries and eat
If You Can Make That You Can Make This
Replace the freeze dried strawberries with other dried fruits – sultanas, chopped apricot, cranberries
Add a tsp of lemon zest for a more breakfast less afternoon tea vibe
Toast and spread with butter and strawberry jam rather than cream
Or try these lemon scones
Or these traditional (Grandma approved) scones