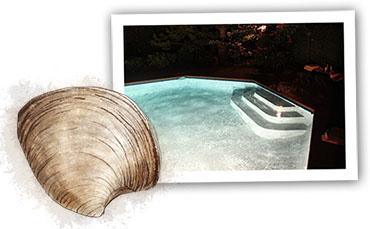 It was only early evening, but already conversation had taken a turn to the surreal. "So I thought, seriously, can there be any better way to spend a bachelor party than to go to Spain and run with the bulls?!"
We were at Jess's uncle's magical house in the Hamptons, eating a clambake that her mother had won in a raffle, and drinking gin and tonics as the sun set over the pool.
"Did you sleep ok?" Jess wondered, as the question of the appropriateness of bull-running hung in the air un-addressed. "You didn't hear any strange noises?"
"The lights didn't come on unexpectedly or anything?" wondered Wendy.
"Because if you noticed anything like that it was probably just the ghost," said Jess.
It was an old house, crammed with eccentric architectural details – the master bedroom was in a turret, for example. The bath was in the middle of the master bedroom. So why not a ghost too?
Later, lying on the patio looking up at the sky, Jon pointed out the Milky Way, dusting the sky in a great arc above us. We were tiny specks of dust on a tiny planet, circling round a sun as tiny as the grains of sand we'd shaken out of our beach shoes that afternoon. We all felt it as we started at a sky full of stars. Bull-running was no longer surreal. Ghosts were no longer surreal.
Eventually a voice broke the silence: "It's totally weird that we eat lobsters isn't it. Just think about it. Look at them. I mean. Really."
It was that kind of night.

Clambake (serves 6 – 8)  
The truth is, if you've brought your date to your house in the Hamptons and had an afternoon of cocktailing around the pool, you could probably cook toast for dinner and still get laid, as long as both of you have been careful with the sunscreen. But this clam bake is perfection, perfect for a party, and easy to assemble in layers in a large pot.
3 large onions
1 ½ lb small potatoes (if some are larger than other, cut them in half – you want everything to be about the same size to cook evenly)
4 corn cobs
40 little neck clams and or steamer clams (scrubbed clean)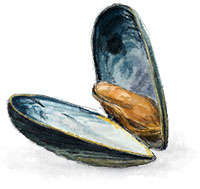 32 mussels (scrubbed clean – for more info on cleaning shellfish click here)
24 3 inch shrimp, shell on (or about 1 ½ lb large shrimp)
3 1 ½ lb lobsters
2 ½  cups wine
¼ cup olive oil
2 tbsp butter
Salt and pepper
 
Dice the onions and fry in the olive oil until soft and golden – about 15 mins on a medium heat.
Half the corn cobs
Now layer the ingredients on top, seasoning each layer and dabbing the butter around: first, potatoes, then corn, then clams, mussels, shrimp and lobsters
Pour the white wine over the top and, clamp on a lid and cook on a medium high heat for 15 minutes
Give the pan a shake, then lower the heat to medium and cook for another 15 minutes
Check that the potatoes are tender, the lobsters are pink and the shellfish are open.
Cut the lobsters open, and crack the claws. Serve the shell fish into bowls, then strain the sauce through a fine sieve (to catch any sand) and pour on top
If You Can Make That You Can Make This
Ring the changes by using different shellfish

Add kiabasa sausage slices on top of the onions

Make lobster rolls with the lobster meat by mixing with mayonnaise, lemon juice, diced celery and salt and pepper. Stuff into hot dog buns, preferably potato buns