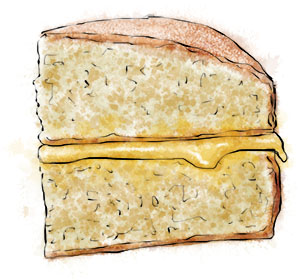 Perhaps it started when Ken and Carrie decided to celebrate both their birthdays and a wedding anniversary with a cake buffet at rotating restaurant The View;
"What's that you say?  Too touristy?  Shudder to think of navigating the Marriott Marquis' myriad elevators?  Come on, we promise the sunset view from the Big Apple's only rotating roof-top restaurant will turn your New Yorker cynicism into wide-eyed wonder."
It was great. We rotated, and ate cake, and felt grateful for air conditioning on a day that reached heights of 103; "Did you see the guy in Times Square dressed as Elmo? Worst job in New York. Absolute worst."
Or maybe it was triggered by Butterlane introducing their summer icings, which drew me to the East, filled with hopeful expectation, ready to sample, kinda like a reverse wise man. (all delicious, BTW)
And then my Grandma sent me some money, which I added to the coffee jar where I've been saving on an ad hoc basis to buy a Kitchenaid mixer. I've wanted one for years, but always worried about how expensive they are, how much room they take up, how heavy they are to lift if you have to store them in the bathroom closet (New York Living strikes again). But Macy's had a sale, and that was that.
It's blue, it's beautiful, and it makes cake-making easy. So easy cakes are what I have been making.
This lemon cake reminds me of the kind of lemon drizzle cakes that my friend Charlotte and I would share at university. We'd start off with just the one slice, and a cup of afternoon tea. Then maybe a little sliver more, and another cup of tea, and another half hour chat, until, little sliver by little sliver, we'd devoured the whole thing, not got any work done, and had to dash for choir and evensong.
Lemon Curd Cream Lemon Drizzle Cake
I usually use good quality shop bought lemon curd for this cake, but if you want to make your own, I use Delia's recipe, and I really recommend it.
For the cake: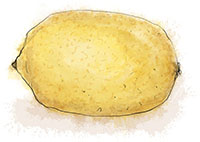 6 oz butter (1 ½ sticks) room temp
6 ox caster (super fine) sugar
6 oz flour (00 for preference)
3 eggs (room temp)
1 tsp baking powder
3 tsp milk (approx)
3 tbsp lemon juice (1 really juicy lemon)
2 tbsp sugar
2 circular tins (about 8 inches each)
 
Pre-heat the oven to 375
Mix the butter and sugar in the mixer until light and fluffy (about 5 mins)
Sift the flour and baking powder together in a bowl
Add one egg to the mixer, then 1/3 of the flour, then another egg, and 1/3 more flour, and the final egg and the rest of the flour. As soon as the mixture is incorporated, stop mixing, (you don't want the flour to develop and make the cake heavy)
Add enough milk so that the sponge mixture drops off the spoon with a light tap on the side of the bowl
Divide between two buttered and floured cake tins and bake for 25 – 30 minutes until golden on top – a toothpick inserted in the centre should come out clean.
While the cake is baking make the lemon syrup by heating up the lemon juice in a small pan and stirring in the sugar until it dissolves and thickens
Turn the cakes onto a rack, then pick all over with the toothpick and pour the syrup over. Let the cakes cool as the syrup soaks in
For the lemon curd cream
¼ cup lemon curd
1 cup heavy cream
 
Whip the cream in the mixer, then fold in the lemon curd so the cream is rippled with lemon
Sandwich the cakes together with the lemon curd cream in the middle
Dust the top with icing sugar if you think it looks prettier
 If You Can Make That You Can Make This
Make a cup cake version instead of a full cake (cook the mixture for about 12 – 15 minutes)
Fill the cakes with whipped cream and fresh berries
Or whipped cream and peaches
Or whipped cream and cherries
Use confectioner's (icing) sugar instead or regular sugar to turn the syrup into a glaze for the top of the cake
Try making an all in one sponge cake
Or a classic Victoria Sponge cake
Or one of these easy cakes