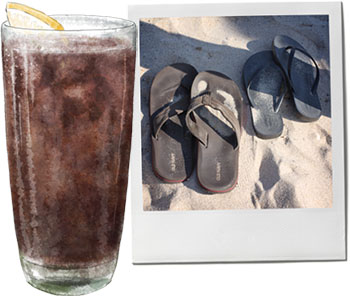 If you are lucky enough to have a friend who has an uncle who has a house in the Hamptons, then there are certainly worse ways to spend an afternoon than floating around his pool on a noodle, and gossiping with friends.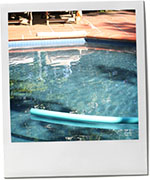 Later, before taking a walk on the beach, someone had the bright idea of filling up take away ice coffee cups with cocktails.
John N sat down on the sand. "I'm shattered. I cycled today," he said. It's true, he did, as part of his general training for triathlons / liking to look ripped thing. "I'm not walking anywhere."
The rest of us set off up the sand, chatting to people as we passed. I collected precious stones and shells, Jess played with the soft lens on her new camera, we paddled in the cold water,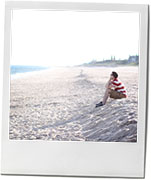 threw a stick for a friendly dog, and then we walked back. In the distance we could see John. He appeared to be meditating, listening to the ocean, watching the sun set glitter and dance on the water.
On closer inspection, it turned out he was playing Angry Birds.
That this made us all laugh hysterically for several minutes, is a tribute to the strength of the cocktails.
Long Island Ice Tea – what else? (makes a pitcher – about 6 drinks)
My friend Euan who loves cola inordinately, introduced me to Long Island Ice teas in pitchers in that strangely soulless bar by in the cinema complex in Kingston. A glass or two later, it had some soul.
It's a very satisfying drink to make because it uses pretty much every bottle of alcohol on the shelf. Also, it looks like strong ice tea / weak ice coffee if you're drinking it from take out cups on the beach.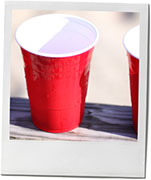 3 oz gin
3 oz vodka
3 oz rum
3 oz tequila
2 oz cointreau
3 tbsp lemon juice
3 cups cola (not diet)
Lemon wedges and lots of ice
 
Fill a shaker with ice, then pour in the alcohol and lemon juice
Strain into a jug, then add the cola and lemon wedges
Shrimp with pesto butter (serves 6)
People will eat as many of these as you can afford to give them. I think 4 inch long shrimps per person is a kind of minimum. You'll also need lots of napkins.
I tend to buy them already de-veined and prepared at Wholefoods. I take them home, rinse them, and keep them in the fridge until I'm ready to cook them.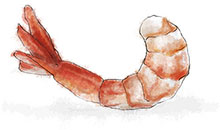 24 inch long shrimp
1 1/2 tbsp butter
1/2 tbsp pesto (fresh from a supermarket – not in a jar, or make your own – it's really easy)
1/2 lemon (and more lemon to make lemon wedges)
1 tbsp vermouth or white wine
salt and pepper
 
Melt 1/2 tbsp of butter in a frying pan with a splash of oil to stop it burning, then add shrimps, seasoning them really well

As soon as they turn pink – literally as soon as or they'll over cook – add the pesto, the rest of the butter, squeeze in the lemon juice and splosh in the wine

Let the pan bubble for a minute until the sauce is more like a syrup

Pour the shrimp onto a platter and serve with extra lemon wedges
If You Can Make That You Can Make This
Add a little more vermouth to the shrimps and serve over spaghetti with a pinch of chili flakes

Cook the shrimp in the butter, then serve with this

lemon mayo

to dip