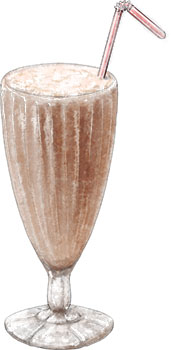 There are a few foods that inspire absolute devotion from my friends. Bacon is one, Nutella is the other. Since neither of these are difficult to provide, I suppose I ought to opt for an easy life and serve nothing but blts at my parties, and ramekins of Nutella with teaspoons.
There's an Italian supermarket in Chelsea market that sells some of the best pancetta in the city, as well as Nutella in jars the size of buckets. Sometimes I go in just stare in awe and wonder.
Separately, there can be few finer food stuffs. But together? Opinions are divided, though not my opinion – I think they're horrible.
A few weeks ago a friend of mine invited me to her new boyfriend's gallery opening in Soho, so I put on my best little black dress and headed out into the sauna that in New York in the summer. All anyone really wanted to do was suck ice cubes, but there was warm champagne, so people made the best of it, paying particular attention to the paintings directly underneath the air conditioner. And then the canape came out. It was a rasher of bacon, covered in chocolate and scattered with hazelnuts. A bacon deconstructed Nutella.
To say they were a hit would be an understatement. People whipped them off the trays as though they were lottery tickets. Even extremely skinny women with Mohawks and nose rings who looked like they hadn't eaten since the death of Atkins were scarfing them up with every sign of enthusiasm.
I tried one.
In my opinion, it was not good.
There's something about cold bacon fat that's not massively appealing in any case – hot bacon fat, whole other story, but cold? No. And how could cold fat be improved by the addition of chocolate and nuts? It was all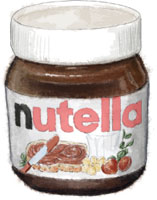 too emperor's new clothes for my tastes. But clearly, at this party I was in a minority of one.
So, putting the kitchen aid mixer through its paces, I decided to make a Nutella themed cookie – chocolate chunks, hazelnuts and Nutella swirl. But if you wanted to be artsy and adventurous you could add ¼ cup of cooked crispy bacon (chopped and cooled). I don't and won't, but you do as you please.
Hazelnut Chocolate Martini Milkshakes (per glass)
1 measure Frangelico
1 measure vanilla vodka
1 tbsp Nutella
1/4 cup milk
2 scoops of chocolate ice cream
 
Blend with ice and serve in a milkshake glass with a wide straw
Deconstructed Nutella Cookies (makes 12)
Happy baking days playing with the new mixer continue despite the heat wave that's currently settled over NYC, and happy experimentation – the Nutella cookie is born.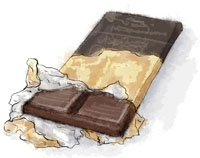 2 cups flour
½ tsp baking soda
1 stick (1 cup) unsalted butter
½ cup caster sugar
1 cup light brown sugar
1 tsp good vanilla extract if you don't have really good vanilla, use a tsp of espresso coffee instead
Pinch of salt
2 large eggs (room temp)
¾ cup chocolate chunks (cut from a good bar of chocolate)
¾ cup hazelnuts
3 tbsp Nutella
 
Pre-heat the oven to 350f
Mix the butter and sugar in the mixer until it's soft and fluffy (about 5 mins on low)
Sift together the flour, salt and baking soda
Add 1 of the eggs and half the flour to the mixer (on low) then the next egg and the rest of the flour
Toast the hazelnuts for about five minutes in the pre-heating oven until golden brown. Keep an eye on them so they don't burn. Roughly chop, then add to the cookie mixture. Stir in the chocolate chips.
Use a knife to swirl in the Nutella
Drop scant tablespoons of dough onto a cookie sheet lined with parchment paper, leaving a good 2 inches between the cookies.
Bake for 8 – 10 minutes depending on how soft you like the centre of your cookies