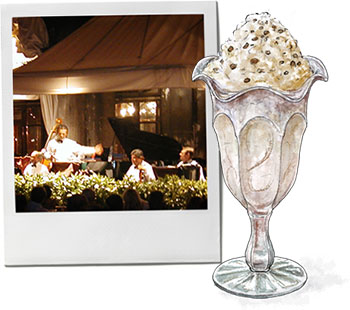 The woman leaned over to our table conspiratorially as a giant glass bowl of ice cream was delivered for her and her husband. "The ice cream here is the best in the world, she said. Are you going to try some?"
Jon and I were sitting in outside a café drinking ruinously expensive coffees, listening to the grand piano music and watching people strolling around the most beautiful plaza in the world by moonlight. It was perfect. And no. We were emphatically not having ice cream. We were students. 7 euro coffee was plenty rich enough for our blood, thank you very much. We were going to sit here and sip it all night.
Half an hour later, a vast sundae arrived at our table. "We didn't order this," we told the waiter, with something akin to panic in our eyes.
He smiled. "It's ok," he said. "The couple who were sitting next to you bought it when they paid their bill."
The ice cream was wonderful. Made even more so by the very special gesture that had sent it our way. And as we walked back over the arched canal bridge to our B and B we decided; we will do that for someone else one day.
Tiramisu Ice Cream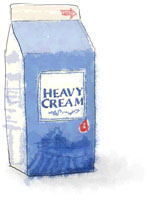 2 cups mascarpone
1 cup cream
1/3 cup whole milk
¾ cup sugar
¼ cup espresso
2 tbsp Kahlua
1 tbsp dark rum
¼ cup wafer biscuits
2 tbsp chocolate covered espresso beans
¼ cup coco powder
 
Blitz the mascarpone, cream, milk, sugar, espresso, Kahlua and rum in a blender
Chill and proceed according to your ice cream maker's instructions, or, if you have given up on ice cream makers (like me) pour into tupperwear, freeze for 3 hours, blend again, freeze again, then blend again
Crush the wafer biscuit and chop the chocolate espresso beans. Mix them into the ice cream and pour back into a tub
Cover the top with coco powder, and freeze for the final time