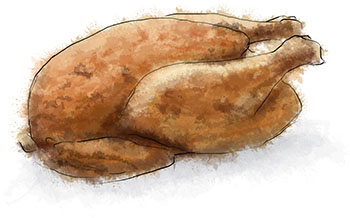 Drinking was involved, and so was Hilary.
We met for lunch to talk about a supper club that we're planning to organize, and to drink Lillet.
"We're really going to do this? Invite strangers to dinner?"
"Sure. Shall we have another drink?"
But what to cook?
"Well, it'll be September, so we could start with a back to school theme, and make cocktails in drinks boxes."
"I like that."
We toasted our creative selves ordered another drink, and the conversation drifted into other areas.
Hilary had more pressing menu concerns on her mind. She's studying for her final culinary exams, and was creating a menu based around herbs.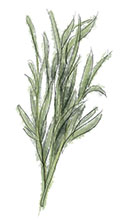 "How about a twist on tarragon chicken?" I suggested. It's been a favorite of mine ever since I met Adam, my now brother in law, who makes it as something of a specialty. "You could bone out a chicken thigh and stuff with with a tarragon mousse, or something to make it fancier." But later, several Lillets later, the thought struck me and stayed with me; why would you want to make tarragon chicken fancier?
There are a few ways to make tarragon chicken, but the basic idea is; cook some chicken, preferably with some butter, deglaze the pan with white wine, add dried and fresh tarragon and a splash of cream. Pour this bubbling sauce over the chicken. Â Brother in law Adam makes his with boned skinned chicken pieces. I've eaten it in Paris with a peg bone in chicken breast, and with an on the bone chicken breast. All delicious.
And of course, there's nothing like roast chicken to seduce and comfort. It says I care about you, I cooked for you, but actually requires very little dexterity or patience and shouldn't add to the anxieties of the date.
"What did you end up making?" I asked Hilary a few days later.
"Actually, I went with tarragon chicken," she said. "But not a fancy version. Just a really good one, with lots of herbs and butter – it just seemed better that way."
Wise words.
Then we had another drink.
Tarragon roast chicken (serves 4 – 6)
Roast chicken stuffed with lemons is one of my favorite dinners, and it's good to be able to plunder the balcony harvest to switch things up a little.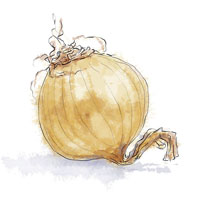 1 large chicken (ready to roast)
2 onions
1 lemon
1 large bunch of fresh tarragon
1 tsp dried tarragon
1 – 2 tbsp butter
½ cup white wine
¼ cup cream (optional)
Salt and pepper
   
Start with a room temperature chicken, and pre-heat the oven to 350 f
Slice the onions into 8ths and scatter the pieces in the bottom of a roasting tray
Slice the lemon in quarter and pop inside the cavity of the chicken, along with half the bunch of tarragon, then put the chicken on the onions (breast up) and pour the wine into the base of the tin
Chop the rest of the fresh tarragon and mix with the dried tarragon and the butter. Season well
Poke your finger under the skin on the breast of the chicken to make a pocket, being careful not to rip the skin, then stuff the butter inside the pocket. If you have any left, spread it all over the skin. If you run out, use a dab of oil or extra butter. Season the skin really well
Roast for an hour and ¾ to 2 hours, (it should be 180 in the thigh). Let the chicken rest for 10 minutes covered in foil
Meanwhile, pour the juices into a pan and boil to reduce and thicken. Off the heat, add the cream if using, then, if you want to be fancier, strain the gravy through a sieve to get rid of the onion pieces
Serve with fresh green vegetables and new potatoes or French bread
If You Can Make That You Can Make This
Add cloves of garlic (skin on) to the roasting tin, then squeeze out the garlic into the gravy once the chicken in cooked.
Make this lemon chicken (by leaving out the tarragon, basically)
Or try this roast chicken with oranges