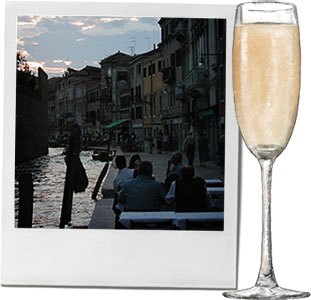 I was lost. On my way home from the market in Venice with my string bag full of purple radicchio, fresh walnuts, a bag of Arborio rice and a wedge of Parmesan wrapped in brown paper and tied with string. So I wasn't going to starve. But I was lost.
Eating out in Venice is tricky. Firstly there are so many pizza and pasta set menu places vying for the tourist trade, and then, a little restaurant frequented by water taxi driver and builders that one year that welcomed you in and fed you risotto and red wine from plastic Evian bottles, gets hit up by Lonely Planet, and the next year has jumped firmly onto the pizza pasta set price menu tourist band wagon.
So it's best to cook, and to remain hopeful. And that's just fine, because I like to cook, and if you like to cook, there are few finer places to collect ingredients than the market in Venice.
But there's still great joy to be had in finding an unlikely looking bar that unveils a bowl of seafood salad and passes round the grilled bread, or brings out a plate of large green olives stuffed with anchovies, and a little bowl of fresh tomato sauce for dipping. And at 8pm sets up three tables out front by a side canal, and brings you risotto and glass of spindly bread-sticks and leaves you pretty much to it as the moon rises and reflects in the water.
Then you remember where it is, and go back. A lot. And never tell another soul about it.
Well, Jon and I had found one such place and had agreed to meet there after I had picked up late afternoon bargains in the market, and he had sketched arches and bridges and what not, from a bench I'd left him on near Rialto. I'd assured him I'd be able to find my way back. And this, though it seems incredible to think of it, was in the days before cell phones just worked abroad and had map apps and GPS. So when I was lost, I was lost.
And how could I ask for help? "Excuse me, I'm looking for a secret bar / restaurant that doesn't really have a name near a side canal …"
I would have to go back to St Marks, and start again. I was going to be super late, but it was the only way I'd get there. And just as the decision had been made I rounded the corner and found Jon, outside the bar, sipping a Bellini, and sketching away looking like he'd been teleported straight off a Grand Tour and 1900.
Bellinis (makes 6)
The first time I made Bellinis (in a one room bed sit in Venice), I made the peach puree by squidging very ripe white peaches in my hands, then pushing them through a sieve with the back of a spoon. It made for a cloudy Bellini, but not a bad one. Emphatically not. When you make your own peach puree, you are going to get a cloudier drink than if you use bought puree – but that's pretty much the whole point and charm, I think.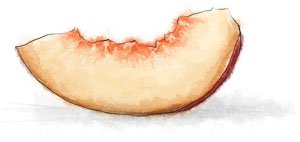 3 ripe white peaches
1 tsp sugar
2 tsp lemon juice
1 bottle prosecco
 
If the prosecco isn't chilled, put it in the freezer and set a timer for 20 mins – it will be super chilled, but unlikely to explode
Peel, de-stone and dice the peaches
Puree in a blender with the sugar and lemon, then strain through a sieve, pressing with the back of a spoon to get the puree through
Add 1 tbsp of puree to each champagne flute, then top up with super-chilled prosecco
Serve with a plate of mortadella,
Or a bowl of green olives