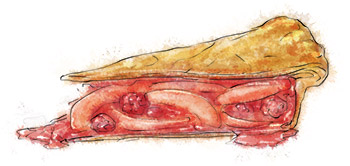 Our friends Ingyin and Yosi planned a last road trip of summer, before returning to NYU Abu Dhabi to start the new term. Essentially, what they were looking for, was Americana.
"Amish Country."
"They make quilts!"
"Can't beat the food."
"If you've never been to a Smorgasbord you've never lived."
"You might die shortly after eating it all …"
"There's platters of chicken and fried chicken and beef and ham and potatoes and mashed potatoes and soups."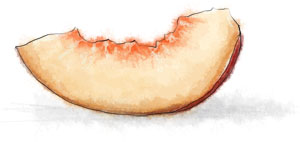 "And pie. Don't forget the pie."
"So. Do you want to come?"
Up early and on the road with lunch reservations at Millers in our back pocket Ingyin checked the map.
"We get to drive through Intercourse Pennsylvania."
We all let that thought hang in the air for a moment.
There were buggies parked alongside SUVs in the carpark at Millers. Sue greeted us beaming and walked us to our table. "Have you ever been to a Smorgasbord before? Shall I explain it to you?"
Basically, get a plate, go to the buffet and carvery. Eat. Repeat. Good to know.
Outside the window genuine Amish people, not just guys in straw hats posing for pictures with the tourists, genuine Amish people, did genuine everyday things; gardening, farming, drinking coffee, riding up and down the road in buggies – well, not my everyday things, but still.  It seemed to be a genuinely alternate way of life. And on a sunny day, with a plate of pie in front of me, it seemed like a perfectly good idea.
"I always thought I wanted a yacht" said Ingyin, "But now, maybe I want a buggy."
"How about a yacht AND a buggy?"
This kind of New York thinking is pretty much the opposite of Amish.
Peach and Raspberry pie
9 inch pie dish (or something close)
8 oz flour
4 oz cold fat – I use half butter half lard, which gives a light crisp flaky crust. Butter tends to make a harder crust. Tip from my grandma.
1 tbsp ish of ice cold water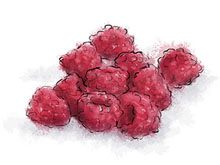 Pinch of salt
1 – 2 tbsp sugar
1/2 tsp cinnamon
1 tbsp corn starch (cornfour)
4 – 5 peaches
2 tbsp lemon juice
1 cup raspberries
cream or ice cream to serve
 
Sift the flour into a bowl with the salt, and cut up the cold butter and lard into a dice
Tip the fat into the flour and rub through your fingers until the mixture resembles sand. If the mixture becomes oily, chill in the fridge for 5 mins then carry on. (You can do this in a food processor, in which case blitz for about 1 minute.)
Add 1 tbsp of ice cold water and mix with a knife to bring the dough together. If the dough is still like sand add more water a tsp at a time until the dough forms a ball. (in the processor, add the water down the feed tube and pulse to bring the dough together, finishing with your hands)
Wrap the dough in plastic wrap (or in a ziplock bag) and rest in the fridge for at least half an hour
Pre heat the oven to 425 f (about 220c)
Cut the dough into two lumps – one a little larger than the other. Roll the larger piece out on a floured surface until it's about 14 inches round. Roll it up over the rolling pin, then into a 9 inch pie dish. It should come up over the sides. Trim the excess
Slice the peaches and toss with the raspberries and some sugar if they are a bit sharp. Stir in the corn starch (this makes the fruit juices thicken into a sauce when they cook) and the lemon juice and cinnamon, then spoon into the pie
Roll out the other pastry disk to about 12 inches round, wet your finger with cold water and dibble it around the pastry in the pie dish, then drape over the second pastry disk and press around the edge with the tines of a fork to seal the pie.
Cut a few holes in the top to let the steam out
Bake the pie for about 30 mins until the pastry is crisp. Check about 20 mins in – you may want to cover teh edge of the lid with foil to stop it burning.
If You Can Make That You Can Make This
Make a deep filled apple pie by peeling, coring and chopping 2 cups of apples, dusting with corn flour , cinnamon and sugar, then baking in the pie crust as above
Or use apples and blackberries
Or pears, cinnamon and honey and a grating of orange zest
Or raspberries and cherries (and a generous dusting of corn starch to turn the juices into a thick sauce)
Or any of these tarts and pies