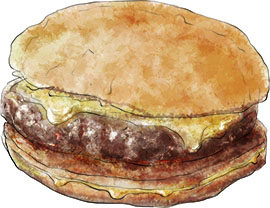 When Euan came to New York he had one goal in mind: to eat and rate all the best burgers in the city.
It was a noble quest, and we set out to help him, compiling a list from various review sites, top ten lists, New York Times clippings and word of mouth reviews. Would Corner Bistro beat out ShakeShack? Had Stand Burger gone off the boil? Would the $26 burger at Minetta really be twenty bucks better?
Now I love a good burger, don't get me wrong, but 2 days in and I was falling behind the pace. Eventually I wussed out altogether. Who actually orders chicken salad in a burger joint, I had previously wondered. People on day 3 of a burger marathon, that's who.
But inspired by this experience, Jon became more and more interested in burger nuances. "This would be a Great burger, but an English muffin is not as good as a bun, so I'm only going to say it's Very Good."
"Putting the red onion that I didn't want in the first place under the cheese, so I can't pick it off without losing half the cheese? That's an error of judgement."
And then last years Great Food Truck Race featured a burger sandwiched between 2 grilled cheese sandwiches made by rock n roll burger mavericks Grill Em All.
I'll just let that image settle with you for a moment.
Yeah.
"That's amazing" said Jon. "That's actually the most amazing thing I ever heard!"
"That's amazing!" said Euan. "We should all go to LA to try it!"
To put this in context; Euan lives in London, so LA is a very long way to go for a burger. And Jon is a physicist with an experiment on the Space Station, so for this to be actually the most amazing thing he's Ever heard is saying something.
"We're not going all the way to LA to eat a burger at a food truck" I said. But to avoid being a huge spoil sport, I suggested we attempted to make our own version.
I grilled the patties and got on with the grilled cheeses. And the result was excellent, in a kinda over the top, dare I say it, greasy way. "I think it might be better as a concept than as a burger," I said. "See it. Call it. Sorry."
"No." said Jon. "It's just going to take some more thinking about. I mean, obviously, the ideal would be to keep some kind of bun rather than having to go to bread for the grilled cheese. Because that way it's actually going to look more like a burger. But here's the problem; bread has more structure than the bun and is less likely to disintegrate. And  they need to be smaller, less over-facing. Leave it with me."
Ever wondered what would happen if academic acumen was re-focused on the concept of a grill cheese burger?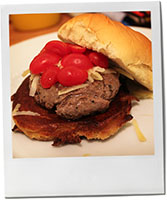 No? Really?
Attempt #2, cleverly used 2 buns to make 1 burger – 2 bases turned into the grilled cheese, then the burger, then the 2 tops turned into grilled cheese on top. "Too much bread, not enough cheese."
The top sandwich is abandoned.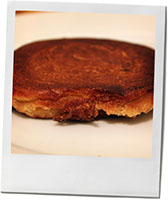 Attempt #3, two burger buns, the two bottoms turned into grilled cheese, the burger topped with cheese, then the top on top. "Good, but still a little bready"
Attempt #4, 1 bun, sliced into 3. The bottom and middle turned into grilled cheese, the burger topped with cheese, then the top on top. "Very satisfactory." And that was the end of the quest.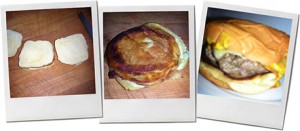 Grilled Cheese Cheese Burger (makes 6)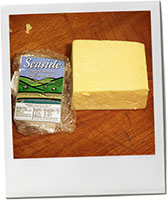 1 lb ground chuck (not too lean – about 20% fat)
2 tsp salt
1/2 tsp pepper
6 potato bread burger buns
12 slices of sharp cheddar cheese, or American cheese, whichever you prefer
Pickles, tomatoes, red onion slices, ketchup and mustard etc
 
Season the meat and form into burgers (about 2 tbsp). Set aside in the fridge to firm up for a few minutes. Pre-heat the grill, or a griddle pan
Slice the buns into three, and sandwich a piece of cheese between the bottom two buns, press down firmly. Fry in a little oil, pressing down, to make the grill cheese sandwiches, transferring to the oven to keep warm
Grill the burgers for 4 -6 minutes each side for medium / rare or 8 minutes for well done. Once you flip the burger, top with the second slice of cheese and let it soften in the heat
Apply ketchup, mustard etc to the top bit of bun so you're ready to go
Take the burgers off the grill and let rest of a few minutes so the juices run back  into the center. Take out the grill cheeses and let them cool a little. Now top the grill cheese with the burger, add pickles, lettuce, whatever and top with the bun
Serve with plenty of napkins