roll + score + prong + top + bake = pastry tart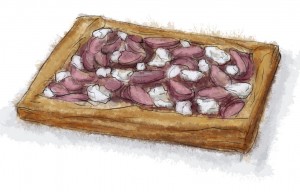 Pastry tarts look super fancy, but actually require little more dexterity to make than a sandwich – an open top one at that. Your world will smell of baked deliciousness. You will always have something to make for in-law visits, dinners with the boss, or dates when you rather hope to get lucky later.
Puff pastry is the kind of pastry that even professional chefs buy. There's no guilt there at all. They make it better in the factory that you could make it at home – well, maybe not you, but me, certainly. I tried it once when I was at cooking school; it took two days and tasted like hot grease.
Ina Garten recommends Pepperage Farm, so that's what I use too. If it's good enough for Ina …
Here's what we're going to do:
Defrost some puff pastry either overnight in the fridge or for half an hour – 15 minutes on a hot day – on the counter.
Pre heat the oven to 450.
Place the pastry on some parchment paper (or foil if that's what you've got. Parchment is more absorbent so you get a crispier texture – but it's not a deal breaker). It's easier to move pastry on paper to the tray. It's a bit tragic to stick a tart to the counter – though I have done it, and it is possible to stick the ripped bits together again.
Roll the pastry to about 10 by 12 inches – that's the perfect size for a big flat tart and the perfect thickness for cutting out smaller tarts. I don't own a rolling pin – my grandma abandoned hers the day she discovered that you could use a roll of foil or parchment or saran wrap (cling film) and then rip off the dirty bit and not have to wash up. So that's what I do too.
Score a border around the edge with a knife – don't cut through, just mark the line. Now prong the surface inside the border with a fork.
Spread the base flavor on the pastry.
Top with the ingredients
Bake for 20 – 25 minutes.
If it makes life easier, you can bake the tart for the first 20 minutes in advance, then heat it up for five minutes just before serving.
Individual tarts
Individual tarts are made in the exact same way; just place a saucer as a template on the pastry and cut around with a knife. Pull away the excess pastry and you're done. Obviously you could cut them into squares too. Score and prong and top and bake. Exactly the same.
What would you like to make?
Or if you'd like something sweet: