It will surprise no-one who knows Jonathan that his birthday meal of choice involved steak.
Possibly the taste runs in the family. His brother Timothy was probably the only vegetarian in the world to make an exception for steak with blue cheese sauce, until years of under-consumption rendered his body unable to deal with the digestion of red meat, and he had to sadly give it up for good.
Having your body become allergic to steak is one of my husband's worst nightmares.
And so, and especially so for his birthday, I am happy to make sure this does not happen. We get out the birthday present steak knives.
Steak with blue cheese sauce (serves 2)
This blue cheese sauce is pretty special. Sharp and creamy and decadent. Really. It's the most amazing treat.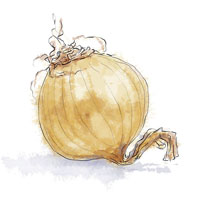 2 rib eye steaks
1 tbsp light olive oil
Salt and pepper
2 tbsp butter
¾ cup cream
¼ cup blue cheese
1 large onion
¼ cup white wine
 
Preheat the oven to 400 and put a cast iron pan on the heat to get screamingly hot (5 mins). If you don't have a cast iron pan, heat up a frying pan
Slice the onion and put in another frying pan, with a splash of olive oil or butter. Season well, and let this cook on a low heat, stirring occasionally until caramelized and soft
Rub the steaks with oil, then season well – at least a tsp of salt per steak
Sear the steaks for 2 mins on every side
Top each steak with a tbsp of butter then put the whole pan into the oven (or transfer to a baking tray that's been heating up in the oven if you're using a frying pan with a plastic handle)
Turn the oven down to 300 and cook the steaks. Check with a thermometer after 5 mins and then again at 2 minute increments. Rare steak is 120f, medium is 125f
Take the steak out of the oven, tip onto a board, then cover with foil. Rest for 10 mins at room temp for the juices to go back into the meat
Turn up the heat on the onions a little and add the white wine. Bubble and reduce to about half, then add the cream
Once the sauce starts to thicken, add the blue cheese and stir in to melt
Serve alongside the steak
Add some crusty bread and a green salad or some green beans and you have a feast
If You Can Make That You Can Make This: