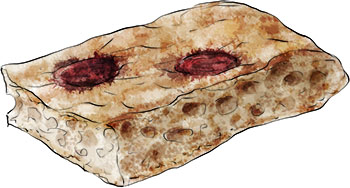 If you lived in Tuscany last weekend, the chances are you would have been out celebrating the chianti harvest.
Apparently there's a big knees up, with a lot of drinking and eating olives and trampling on grapes in vats.
"Seriously," I asked my sister Sarah, who knows a thing or two about wine and has the exam certificates to prove it, "do people really crush grapes by foot?"
"Yes," came the reply.  "If they're tourists."
Meanwhile in Kingston (Suburb of London) foot action is the talk of the town. A fish pedicure had come to Bentalls (fancy local department store). "I'm ticklish," said Caroline. "I don't think it's for me."
"No way," said Charlotte. "I hear those fish actually spread diseases. You know, they bite one persons' dead foot skin, then they bite another persons' dead foot skin … I'm not doing it. But I'll sit with you if you want to have a go."
I was tempted, I'll admit it. But as I watched the little fish swarming around in their tank I started to have second thoughts. Is fish nibbling to proper pedicures what trampling on grapes is to a mechanized wine press? So I bought some nail varnish and a pumice stone and went home for a glass of wine.
Nevertheless, I am a firm believer in celebrating pretty much anything that can be celebrated, so I am throwing a chianti party upon my return to NYC, which, with a bit of luck, visa permitting, will be tonight. The plan is this: lots of anti pasto, Italian sausages cooked in chianti served with warm grape focaccia, and affogato for desert.
Not too shabby for a woman with potential jet lag.
Focaccia with grapes
Focaccia is what you cook when you have time to spend in the kitchen, and you want to ground yourself, root yourself back in your home. Pottering, kneading, not too much washing up, fresh baked bread smell, and glorious achievement.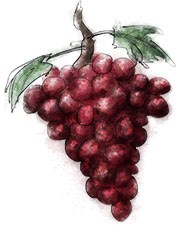 75 ml olive oil plus plenty more for drizzling
1 egg
150ml milk
Warm water
1 tsp sugar
4 tsp dried yeast
675g strong flour
2 tsp salt
Pepper
2 cups seedless red grapes
 
Tip the olive oil milk and egg into a measuring jug and beat to combine, then add enough warm water (hot tap water is fine) to make the liquid measurement up to 525 ml
Stir in the sugar and sprinkle the yeast over the top. Leave to stand in a warm place for ten mins, by which time the yeast should have created a froth
Mix together the flour and the 2 tsp of salt, then pour the liquid over. Either using a mixer or your hands (I like to do it by hand), mix until a dough is formed, then knead the dough until it is smooth and uncracked (5 – 10 mins in the mixer with a dough hook)
Cover the dough with a clean tea towel and leave to rise in a warm place until doubled in size – about an hour
While the dough is rising, oil a baking tray very generously with olive oil (the oil is what makes the bread taste delicious so don't skimp – I use about ¼ cup)
Knock down the dough, then roll out into the tray, cover and let rise again for 20 mins
Meanwhile, pre-heat the oven to 320 F
Prong dimples in the dough with your fingers (lovely feeling!) and top with the grapes, pressing them down into the holes. Drizzle generously with olive oil and season well, especially with pepper
Bake for 30 – 40 mins until golden brown. The bread should sound hollow if you tap the underside
If You Can Make That You Can Make This
Replace the grapes with:
Cherry tomatoes
Cherry tomatoes, mozzarella and basil
Goat cheese and black olives
Black olive and rosemary sprigs
Cooked Pancetta
Dried apricots and goat cheese
Roasted vegetables
Brush with garlic oil
Brush with garlic oil and top with mozzarella cheese slices. Broil to melt