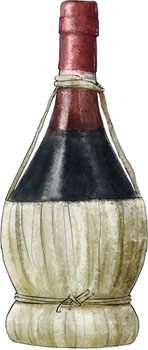 Back to New York with Jon, who evidently missed me because he'd filled the fridge with skim milk and yogurt, both of which I love, and he can totally live without. Also wine. Lots of wine.
I'm a fan of chianti. It's the kind of drink that you preserve the bottles from to put candles in. I had one for years that collected wax like a stalagmite, but which was damaged when I moved apartments and had to be started all over again. The kind of wine that came in bottles covered by wicker in the Italian restaurants of my childhood.
I emailed my sister Sarah, resident wine expert. She emailed back:
"Hey, Hope the flight was OK, at least you got there in time and the right airport!
Pass notes on Chianti? Ok then: Chianti is produced in Tuscany (between Florence and Pisa) in central Italy. It must be made from at least 80% Sangiovese grapes and has DOCG recognised status.
Chianti usually a very delicate sour cherry and redcurrant perfume with more spice and cranberry flavours on the palate. Quite dry, with a medium body, noticable tannins and fresh acidity.
Chianti is often sold quite young with little oak influence which keep the perfume nice and delicate, though Chianti Classico Riservas are aged for 38 months oak and bottle creating a more complex richer wine. (Chianti Classico is a region within Chianti that is known for a its high quality wines. They have a black cockerel emblem on the bottles so they're easy to spot on a shelf.)
Young Chianti, (up to $20) is a great pizza and pasta wine, perfect with tomato sauces and spicy salamis. But if you want to push the boat out, Chianti really starts to show it's unique and special characteristics once you start looking over $30 – like a good Bordeaux, it's worth trying for a treat.
BTW, you left your scarf. I'll post it to you with your birthday presents. Lots of love Sarah xxx"
Antipasto
It's easy to construct a lovely anti pasto platter – most of the art here is in the shopping.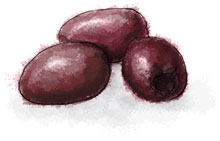 Go to a shop. Buy the nicest freshest buffalo mozzarella you can find. Buy some sun dried tomatoes and some great olives – black and green, big and small. Buy some Palma Ham. Buy some bread sticks. Buy a hunk of pecorino cheese. Buy some artichokes.
Now look at your gorgeous produce in the sober light of your kitchen and decide; one big platter or lots of little dishes. This decision will depend on whether you have a fabulous big platter or lots of little plates and dishes generally.
Lay out the ham, then zone everything else around it. The cheese should give the platter height, the olives and tomatoes color. It will be lovely. Drizzle the mozzarella with olive oil and a grinding of pepper and you're done.
Or fancy it up a little;
Slice some tomatoes to go with the mozzarella and make a caprese salad
Grill the artichokes on a griddle pan to char, then dress with lemon juice and olive oil
Make a dip from ricotta, a squeeze of lemon, some chopped mint and basil and a few pinches of chili flakes
Make some pesto and drizzle over the mozzarella
This was my task today, back in NY to an overgrown balcony. So I hacked back the basil and made enough pesto to get us through the winter. Cooking in the kitchen. I am home again.
Mozzarella with Pesto

1 fresh buffala mozzarella
handful of basil
handful of grated 
Parmesan
handful of toasted pine nuts
olive oil
vegetable oil
salt and pepper
 
Pulse the basil, cheese and pine nuts in a processor
Pour in a couple of tbsp of vegetable oil to soften the paste, then pour in olive oil until you have a good consistency
Season – especially with pepper (taste for salt – the cheese is quite salty)
Slice the mozzarella, then drizzle with the pesto