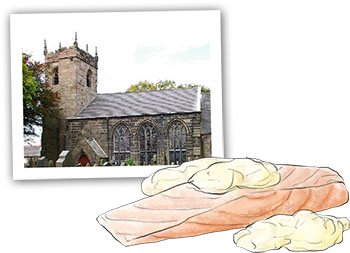 Englishness continues as baby Emily is christened in the Parish Church in front of adoring family, friends and a set of great grandparents.
Determined to walk, she holds up her hands for balance, and lurches from one set of adult legs to another, finally finding someone to patiently offer her a finger for balance and go for a walk to explore the world. The freedom is intoxicating. She sets her eyes on the horizon and walks and walks and walks.
I remember something like this sense of freedom when I learned how to drive. I remember feeling how fast 30 mph really was. It had never felt like speed from the back seat, but now it was Formula One and NASCAR rolled into one. Why would anyone ever need to go faster than this, I wondered, inching down the busy road, my driving instructor muttering encouragement from the dual control passenger seat.
I was getting the hang of it. I was driving. Today, New Malden. Tomorrow, who knows? I had the freedom of the horizon. And it was all going well until a car cut me up on the inside at a roundabout. I swerved and knocked the mirror off a parked Range Rover. The instructor slammed on the break.
Incidentally, the car that cut me up was being driven by my own mother, late to drop my sister off at a flute lesson. That's family for you.
But the point of this is, I think I could understand how baby Emily felt.
Cousin Richard was at the party with new amore Claire meeting the family for the first time. They met in a bar, talked all night. Inseparable ever since. And Katie and Peter were there with brand new baby Joseph featuring a fashion show of cute outfits and soft cheeks like freshly risen dough. So it was quite a party. And there was salmon, because it was a christening in England, so of course there was salmon. Bells rang. We had cups of tea. And that was lovely for us, but none of this is at all conducive to getting lucky on a date.
Bear with me.
So much of food is about context.
Poached salmon. So elegant. So 1920s, come out on my chamomile lawn and let us use our fish forks and swap scandalous stories about the twins and Lord Moutborough, then let's play croquet and deliberately lose the ball in the shrubbery and come back from retrieving it with our clothes ever so slightly crumpled.
I've defended afternoon tea foods' right to be considered date food before – sure, it's a bit formal, a bit polite, but if you want to be unbuttoned later, you have to be a bit buttoned up to start with.
This would be the perfect balcony bound late summer dinner – elegant, refined, vegetarian friendly, no chance of post dinner bloat and sluggishness. Lay a table cloth. Set out the best china and the silver fish forks. And mind your table manners.
Salmon with foaming hollandaise sauce
This hollandaise recipe comes from Delia Smith, and it's a really easy stable version of what can sometimes be a tricky sauce. This version isn't. You can make it in advance and keep it warm, or even freeze it, according to Delia, though I'll admit, I've never tried that myself.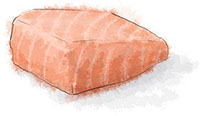 2 salmon fillets
2 tbsp white wine
Salt and pepper
2 tsp butter
For the hollandaise
 
2 eggs
3 tsp lemon juice
3 tsp white wine vinegar
4oz butter
Salt and pepper
 
Lay the fillets skin side down in a baking dish. Season well and and dot with the butter
Pour the wine into the dish, then cover tightly with foil and steam / poach / roast for 12 – 15 mins, depending on the thickness of the salmon.
While the fish is in the oven, separate the egg yolks into the bowl of a blender or processor, keep the whites aside
Season the yolks and blend for a minute to mix and lighten
Heat the lemon and vinegar in a small pan until simmering, then start the blender again and pour in the warm liquid in a steady stream. Stop the blender
In the same small pan, heat the butter until melted over a gentle heat (you don't want it to brown)
Put the blender on again and pour in the butter in a steady stream, wipe down the sides, then blend again in a quick burst – you should now have a smooth sauce
Whisk the egg whites to soft peaks and fold into the egg yolk mixture. Keep warm in a bowl suspended over a pan of simmering water
Take the salmon out and let it rest for a few minutes before serving with the sauce
Consider a bowl of steamed potatoes alongside, or good bread and a watercress salad dressed with lemon juice, olive oil and plenty of salt
If You Can Make That You Can Make This
Use blood orange juice instead of lemon juice and vinegar and serve with white fish or grilled chicken
Make bearnaise
Or butter sauce
Or mayonnaise
And if you can make this salmon, how about any of these fish dishes?