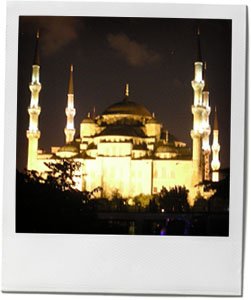 There are moments in life where we are suddenly confronted with the fact that our parents are Real People too.
And in the case of my parents, very stylish Real People. There they are, going along, being all parent-y, "let's have a BBQ … did you have a flu jab yet? … did you hear that thing on Radio 4?" life is normal, and then, suddenly "let's celebrate Dad's birthday in Istanbul." See? Totally stylish.
Istanbul is a gorgeous city; wide cobbled streets, Arabian Nights skyline of spindly minarets and domed mosques, boats bustling up and down the Bospherous, Roman towers, ferries to Asia, spice markets, bazaars, and the call to prayer echoing through the city at sunset as bats fly around the Palace. I can't think how it could be more romantic and exotic. Well, possibly if I were not sharing a double bed with my sister. Yup. That would be more romantic. But I digress.

So we ate, and we shopped and ate some more. I went to a Turkish bath – nobody else felt brave enough to get naked and be scrubbed down by vigorous Turkish ladies of, shall we say, a certain age – we explored museums and palaces, and then, Sarah (sister) and I spent some time at a cookery school called Cooking Alaturka. Mum and Dad visited a harem and joined us for lunch.
There was a lot of chopping of mint, parsley and dill, and not very much getting out the food processor for those onions, or using a can of tomatoes. It was rigorous and traditional and a lot of fun. Also, extremely delicious. And, as a bonus for all the chopping we got to use massive curved blades like the ones the bad guys wield inefficiently in the Disney movie Aladdin. Which was awesome.
We stuffed vine leaves (the secret here, I'll give you this one for nothing, is to soak them for an hour in cold water, rinse, soak again in fresh water for an hour, rinse and soak again in fresh water for an hour. No more weird tasting vine leaves. I know. You're welcome.) we smashed up lamb bones for stock, we thickened spiced yogurt to make soup. We leaned about cooking eggplant and salting onions and marinading kebabs, and then I bought a ton of Turkish cookery books with very retro illustrations, and I've been obsessed ever since.
Zucchini pancakes (serves 4 – 6)
I've been a big fan of the zucchini pancake ever since I read about them in Claudia Roden's fantastic book New Middle Eastern Food. They're a great appetizer with a cold beer, and according to my dinner party book (a record of every meal I've cooked for people since I left cookery school), they're in my top ten most cooked appetizers.

Ideally, you're looking for smaller zucchini because they don't have such a large seed core. But it's not a big issue. In my Turkish cookery class we grated the zucchini after cutting it in half and taking out the seeds. I don't do this at home. Instead, I grate into a kitchen towel then wring out the zucchini to get rid of most of the water. It works just fine. Though especially traditional Turkish Grandmothers would apparently take umbrage at this, so bear that in mind should you be making these for one.
Another thing just to note; Turkish red pepper flakes don't have the seeds in, so they're much more mild than regular red pepper flakes. If you're using Turkish red pepper, double it here.
2 medium zucchini
2 large eggs (if the mixture ends up incredibly dry, add another egg)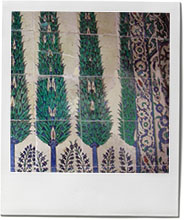 4 tbsp flour
2 tbsp of chopped spring onions or chives
2 tbsp chopped dill
2 tbsp chopped mint
2 tbsp chopped parsley
4 tbsp crumbled feta
1 tsp red pepper flakes
Salt and pepper
Vegetable oil or light olive oil for frying
1 cup yogurt
2 cloves garlic
 
Grate the zucchini and wring out to get rid of the water. Tip into a bowl
Add the pepper flakes, the cheese, the herbs and onions / chives, then season well
Stir in the egg, and mix in the flour
Fry small patties – I make mine about 1 tsp each, though this takes a bit of time – in a hot pan for a couple of minutes per side until golden
Drain on kitchen paper. Eat, or reheat in a medium oven for 5 mins until warmed through
To serve, grate the garlic into the yogurt and put a dollup on each plate, or in a bowl for dipping
If You Can Make That You Can Make This
Vary the cheese – mozzarella is good, but keep the pieces small or it's harder to fry
Add chopped fresh mint to the yogurt dip
And or fresh diced cucumber (take out the seeds or you'll get a very watery dip)
Use a generous pinch of dried mint instead of fresh
Leave out the dill, and add a few tsps of lemon zest
Serve with lemon wedges rather than yogurt