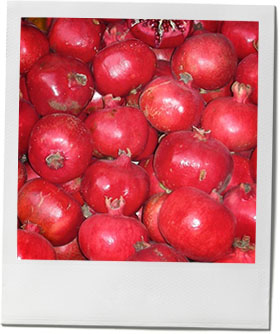 There's not a whole lot of romance in the methodist church. Believe me. I was in the youth club.
Mostly it was the heartiness of Girl Guides and barn dances and pot luck family suppers and prayer weekends in holiday homes and pink wafer biscuits, lemon squash and a pervading smell of pencil sharpenings.
But even into the methodist church, even in New Malden, pomegranates can be guaranteed to get the imagination whirling; "Let us get up early to the vineyards;" sang Solomon in our bible study at sunday school. "let us see if the vine flourish, [whether] the tender grape appear, [and] the pomegranates bud forth: there will I give thee my loves."
Yeah. Exactly.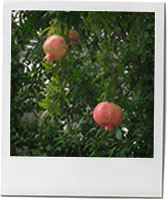 I'd been a pomegranate fan all my life. When we were little my Mum would give them to my sister and I to eat in the bath to prevent mess, and I've been cooking with them for as long as I've been cooking. So I was very excited to see the pomegranate tree outside the hotel on the family trip to Turkey.
Fans of the not in fairness massively widely known late night tv show Mile High may remember a pomegranate seduction scene? Mum? Dad? Anyone remember? I vividly remember watching it with you. In fact, yes, there it it, blushing at the memory. Well, I wrote that.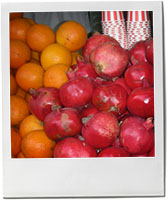 Then I shamelessly ripped it off from myself and put it in my first play, Loving Ophelia, which featured a very suggestive cut pomegranate on the poster. So pomegranates have been on my mind in a theoretical and not just an eating-based context, but honestly, I'd never though about how they actually grow.
Near Hagia Sophia, the stunning ex-Orthodox Church turned Mosque turned museum, stalls were groaning with pomegranates and oranges, ready to be juiced. Why had I never tried this before? No special  equipment required; an orange juicer and a sieve. Why didn't I think of that?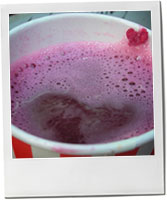 A little bit of sugar took off the tannic edge, and there it was, a paper cup of purest pink, the very essence of exoticism. It was all terribly pre-Raphaelite. Very Christina Rossetti;"Raise me a dais of silk and down / Hang it with vair and purple dyes; / Carve it in doves and pomegranates / And peacocks with a hundred eyes."
Back in New York, the stall at the bottom of Union Square has pomegranates for a song. Next to them are blood oranges. I buy a bag full and head home to make cocktails and to stand on the balcony and enjoy the unseasonal warm weather.
Orange pomitini
1 measure pomegranate juice
1 measure vodka
1 measure blood orange juice
 
Shake over ice and garnish with a few pomegranate seeds
Pomegranate martini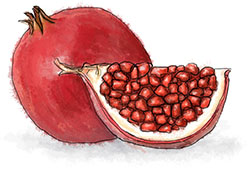 1 measure pomegranate juice
1 measure vodka
1/2 tsp superfine sugar or simple syrup (you may prefer your drinks sweeter – this is to taste)
 
Shake over ice and serve with a few pomegranate seeds for garnish