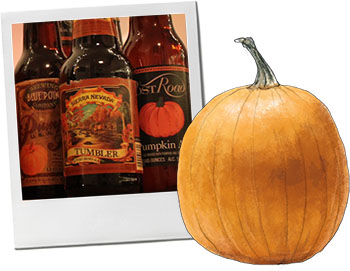 I'd never heard of Pumpkin beer until I came to New York and bought a selection of Autumnal bottles because I loved the Halloween themed labels. Yes, I am a marketer's dream.
So my initial impulse wasn't unduly bothered by the beer itself. I was really interested in stuffing candles in the tops of the bottles and lining up a selection of different shapes and sizes down my Halloween table. It was a surprise – a good surprise – when Jon and I sat down to drink the spoils in the spirit of waste not want not.
It's actual beer, it turns out, with actual pumpkin in it, along with all kinds of delicious autumnal spices – nutmeg, pepper, cinnamon, allspice, ginger.
The best versions are warming and delicious. The worst are synthetic and kinda weird. But even these have one redeeming feature; being kinda orange.
(There's a recipe here if you're interested in the process, or indeed, in getting started with brewing.)
I shop by lists, listen to recommendations, and try to be swayed by label design as little as possible. Well, maybe a little. So I do buy Sam Adams Harvest beer and Blue Moon Harvest Pumpkin Ale, which are both delicious, but which both have super disappointing labels. And that's where Brooklyn Brewery Post Road Pumpkin Ale comes in – great taste, great label, available literally everywhere in NYC. What's not to love?
And it makes a good cocktail too – muddle a shot of bourbon with a chunk of fresh ginger and a cinnamon stick. Strain this into a Pilsner glass and top up with the beer. Drink while reading ghost stories.
Roasted Spiced Chick Peas
These crunchy chick peas are utterly addictive. I like them best warm from the oven. They're easy to make, and easy to shop for – store cupboard ingredients and rosemary from the balcony. If you don't have fresh rosemary, use dried, but use a bit less.
Once you've got the hang of making them, the only thing standing between you and a ton of interesting flavor variations is your imagination and your spice rack.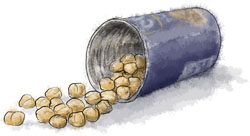 2 cans chick peas (garbanzo beans)
2 tbsp vegetable oil (or light olive oil)
Salt and pepper
2 tbsp soft brown sugar
2 tbsp chopped fresh rosemary
1 – 2 tsp salt
1 tsp paprika (a bit less if you prefer things mild)
½ tsp cinnamon
1 tbsp olive oil
 
Preheat the oven to 350f
Drain the chick peas, rinse and dry on kitchen paper
Toss with 2 tbsp vegetable oil and a good seasoning of salt and pepper, then arrange in a single layer on a baking tray and bake for 40 minutes until they are just golden and rattle when you shake the tin
While the chickpeas are cooking, combine the sugar, paprika, fresh rosemary, cinnamon and salt in a bowl with the olive oil
Toss the hot chick peas in the mixture, then put back in the oven for 5 mins to let the flavors combine and lose their powderiness
Eat warm, or store for up to a week in an airtight tin
If You Can Make That You Can Make This
Replace the spices and sugar with 2 tsp of garam masla

Or with a drizzle of maple syrup, smoked sea salt and cayenne
Or with sugar, salt, cumin, and cinnamon
Or with lime juice, fresh cilantro, chili and salt
Or with garlic salt, lemon zest and herbes de Provance