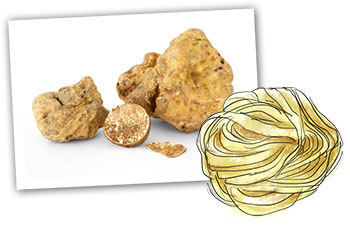 "Unbelievably" said Jen, "It actually tastes like pasta."
It was the inauguration of my KitchenAid pasta roller attachment, given to me as a birthday gift from Sheana, my mother in law. I had been wanting it ever since I acquired the mixer (thanks Grandma), so no, it wasn't some kind of passive aggressive hint that I should cook more ravioli for Jon and take better care of him in general or I'd end up with a horses' head in my bed. At least, I'm pretty sure it wasn't.
Incidentally, I have a friend whose husband was paying attention to that old piece of anniversary whimsy, 1 year = paper, 2 years = cotton, all the way up to 50 and gold, and gave her juicer for their wedding anniversary.
Apparently the Wikipedia list said "appliances" were the gift that represented 4 years of married bliss. And his wife in all fairness, did like fruit.
So he was feeling very pleased with himself for being both ingenious and romantic, and he'd bragged about how great a present he'd got quite a lot in advance, while keeping the actual gift a secret, which is a shame, because we could all have predicted how that one would go down.
The moral of this story? Buying people kitchen related gifts, not always a great idea. But in my case, absolute exception.
Anyway, back in the kitchen, Jen had heard that I was about to try out the birthday pasta roller for the first time and had volunteered to come over and keep me company. Battling through torrential rain, she arrived damp but not discouraged, bearing wine.
"Hello. Put your coat over there, then pour a couple of glasses and wash your hands," I told her – natural hostess that I am. "Do you want to roll or cut?"
"Really?" she looked a bit surprised. "I thought I'd be more perching with wine and chatting and watching you cook."
"Yeah? No."
Soon golden dough had been flattened into thin translucent sheets, then shredded into tagliatelle, and it all turned out much better than we had any right to expect given the amount of wine we drank. And there it was; fresh pasta.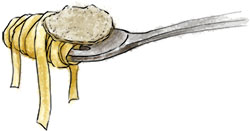 "We made that."
"I know. We're amazing."
We high fived.
But even in a dinner that included homemade pasta, the star of the night was undoubtedly the white truffle. And rightly so.
October is truffle season. Which happily, coincides with the occasion of both my birthday and my engagement. That took place in an UES restaurant, and I was so surprised by Jon's enthusiasm that I entirely forgot what I ate, though I remember that we chose the venue because it had a butternut squash related special that I was keen to experience.
But some food does stand out from that evening. The people on the table next to us had fresh pasta tossed in a light cream sauce, then the chef came out of the kitchen to grate truffle over the top in a ludicrous, gorgeous smelling mound.
We go back to this same restaurant for our anniversary (or on the day nominated to be our anniversary if said anniversary clashes with the visa run to London), and we eat what they were having.
Sharing a bowl of truffle pasta is one of the most decadent eating experiences imaginable.
If you can afford the treat of real fresh truffle, toss cooked fresh egg pasta in a tbsp of butter and 2 tbsp of cream, then shave the truffle, as much as possible really, on top.  That's it. You're done.
But if you're on more of a truffle oil or truffle butter budget, proceed as follow
Tagliatelle with White Truffle (serves 2)
You can also make this dish with fresh not-made-in-your-home pasta – pre pasta maker I bought mine from Eataly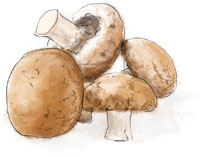 Fresh tagliatelle (see below)Â 
½ cup mushrooms (crimini or a mixture of wild mushrooms)
2 tsp butter
1 clove garlic
½ cup white wine
¼ cup cream
2 tbsp truffle butter or 3 tsp white truffle oil
olive oil
salt and pepper
 
Bring a large pan of water to the boil and salt well (as salty as the Mediterranean, remember)
Meanwhile, slice half a cup of mushrooms and fry in 2 tsp of butter and 1 tsp of oil until they color – at first they go damp and look unpromising, but keep going and they'll brown up
Season well, and grate in 1 clove of garlic
Pour in ½ cup wine and reduce by half, scraping up the bits from the bottom of the pan into the sauce
Add 1/3 cup cream, check the seasoning and keep warm on a low heat
Cook the pasta according to packet instructions, or, if you made your own, it's going to take literally a few minutes. 3 – 5 at the outside. Drain well, tip into the sauce and mix well
Add either 2 tbsp white truffle butter (probably the whole little tub) or 3 tsp of white truffle oil – more if you think it needs it but go carefully
Transfer to a warm serving bowl and share with someone special
Homemade Tagliatelle
290g 00 flour (this is finely milled, but if you can't find it, it's not a deal breaker)
3 large eggs (or 2 eggs, 2 yolks for a richer pasta)
25ml olive oil
1 tsp salt
   
Either put everything in the mixer and mix with the paddle to combine, once it comes together, knead with the dough hook for a few minutes until you have a silky dough

Or pile the flour on the kitchen table, make a well and pour in the oil, beaten eggs and salt. Draw the flour in with your hands a little at a time and knead until you have a silken dough

Oil a bowl and roll the pasta in it to coat the surface of the dough, then rest in the fridge for up to an hour

Attach the pasta roller to the mixer or clamp the hand roller to the kitchen table. Dust with flour (or semolina)

Flour the work surface, then flatten the dough and cut into 4ths or even 8ths to make it easier to work with

Roll a piece through the widest setting 3 times – patience is needed here, also, flour on the work surface – then reduce the setting and roll twice and reduce and roll twice and so on until you've reached the smallest setting and the pasta is very thin. 

If it looks like it's going to crack, fold it in half and go back a setting or two and repeat.

Lightly flour and slice into noodles. Put on a damp tea towel or on a well floured surface while you repeat with the rest of the dough

Cook in boiling well salted water for 2 – 4 minutes (depending on the thickness of the pasta) and drain well 
If You Can make That You Can Make This
Make the pasta and serve it with butter, black pepper and grated Parmesan

Or with a simple pesto 

Or even with a deconstructed pesto – torn basil leaves, pine nuts, garlic oil and Parmesan

Or with a tomato sauce
Use the mushrooms and truffle oil to make some amazing penne 

Or make the mushroom cream sauce and spread on bruchetta, sprinkling with truffle oil at the last minute

Shave truffle onto a simple risotto
Use truffle oil or butter to make truffle popcorn